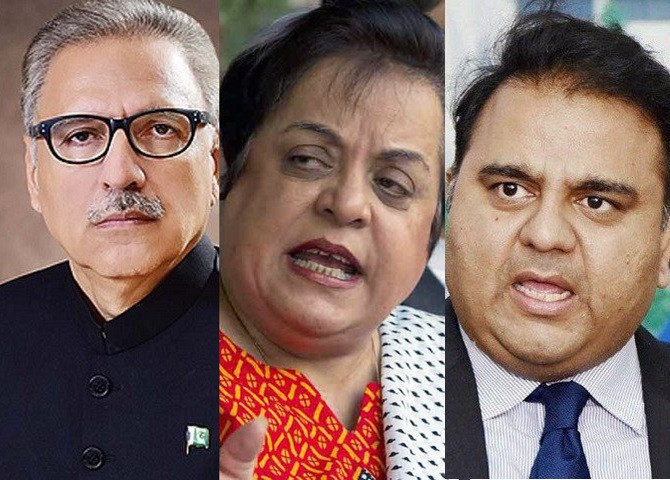 President Dr Arif Alvi distanced himself on Monday from the Pakistan Tehreek-e-Insaaf (PTI) chief and deposed prime minister Imran Khan's remarks concerning the army chief and said that he should "clarify the comments himself".
Speaking to journalists at the Governor House in Peshawar the president said that he "did not want to cause any confusion" as he urged Imran to offer an explanation for his statements.
Addressing a public rally at the Iqbal Stadium in Faisalabad yesterday (Sunday), the former prime minister alleged that Nawaz Sharif and Asif Zardari wanted to appoint the army chief of their choice because if a "strong and patriotic army chief" came, they would be questioned about their loot.
Read Fawad denies reports of 'behind-the-scenes contacts' between Imran, Nawaz
Elaborating on his stance, President Alvi said "the entire military is patriotic including the army chief whose loyalty is beyond doubt". At the same time, he said that "the one who makes the comments should be the one to explain himself".
"I am not working towards building a national government, rather I hope to bring everyone to the same table," he continued. "I meet the prime minister regularly. If we are not in communication then there is no distance either," he added.
"If we achieve transparency then the mistrust between the provinces will also end," he added.
The president also reiterated the coalition government's stance that the country had managed to "escape economic pressures" and the deal with the international money lender – the IMF was "better". He also remained optimistic that "the other institutions will cooperate now" and hoped "inflation will end soon".
President Alvi further stated that the, "Social media is an animal that shouldn't be given too much importance," but he nonetheless maintaned that it "cannot be regulated" and "we must learn to live with it". However, "whoever speaks," he said, "should speak carefully".
In an apparent nod to the audio leak that stirred controversy over the PTI's alleged attempts to employ 'hardball tactics' to thrust the crucial loan into "jeopardy", the president said "tapping people's phones is dangerous" but dismissed it as something that "happens all over the world".
It may be noted here that PTI leader and former Human Rights Minister Shireen Mazari had defended the leaked conversation saying that "there is nothing illegal or wrong in the conversation".
So audio call btwn Tarin & prov FM leaked. There is nothing illegal or wrong in the convo. We have publicly opposed the terms on which imported govt is taking loan from #IMF. But what is illegal is the wire tapping done on conversation without court order. A criminal offence.
— Shireen Mazari (@ShireenMazari1) August 29, 2022
She had instead criticised the "wiretapping" that made the audio leak possible in the first place.
PTI defends Imran
Meanwhile, other PTI leaders have jumped in to offer explanations on behalf of the party chief. Shireen Mazari in a tweet responding to criticism by Prime Minister Shehbaz Sharif defended Imran's statement for raising concerns over "merit" in the selection of the country's next army chief.
Chairman PTI's statement was about merit & merit in selection of COAS cannot be made by two criminals whose only priority is to save their billions stashed abroad & who have zero credibility. Remember DawnLeaks & Memogate? Or the many public statements of PMLN, PPP, JUIF ag mly! https://t.co/ksetK5KqJR
— Shireen Mazari (@ShireenMazari1) September 5, 2022
PTI senior leader Fawad Chaudhry also chimed in saying that "it is not correct to link this statement to the army or the leadership of the army" and argued that the party chief had only criticised the rival party heads.
عمران خان نے نواز شریف اور آصف زرداری کو ڈان لیکن اور میمو گیٹ کے تناظر میں سیکیورٹی رسک کہا ہے ان کی جائیدادیں ، بچے تمام تر مفادات ملک سے باہر ہیں لہذا اس بیان کو فوج یا فوج کی قیادت سے جوڑنا درست نہیں https://t.co/JF58zsw1px
— Ch Fawad Hussain (@fawadchaudhry) September 5, 2022
Responding to Imran's statement, PM Shehbaz had maintained that the PTI chief's "despicable utterances to malign institutions" were touching new heights "every day".
Read more Don't push me to the wall, warns Imran
He claimed that the former premier was "indulging in direct mud-slinging and poisonous allegations against Armed Forces and its leadership".
"His nefarious agenda is clearly to disrupt and undermine Pakistan," PM Shehbaz said in a tweet.
On the other hand, Islamabad High Court Chief Justice Athar Minallah, while hearing the plea challenging a ban on live broadcasting of Imran's speeches, had expressed displeasure over the statements, particularly the ones pertaining to the armed forces.


Source link