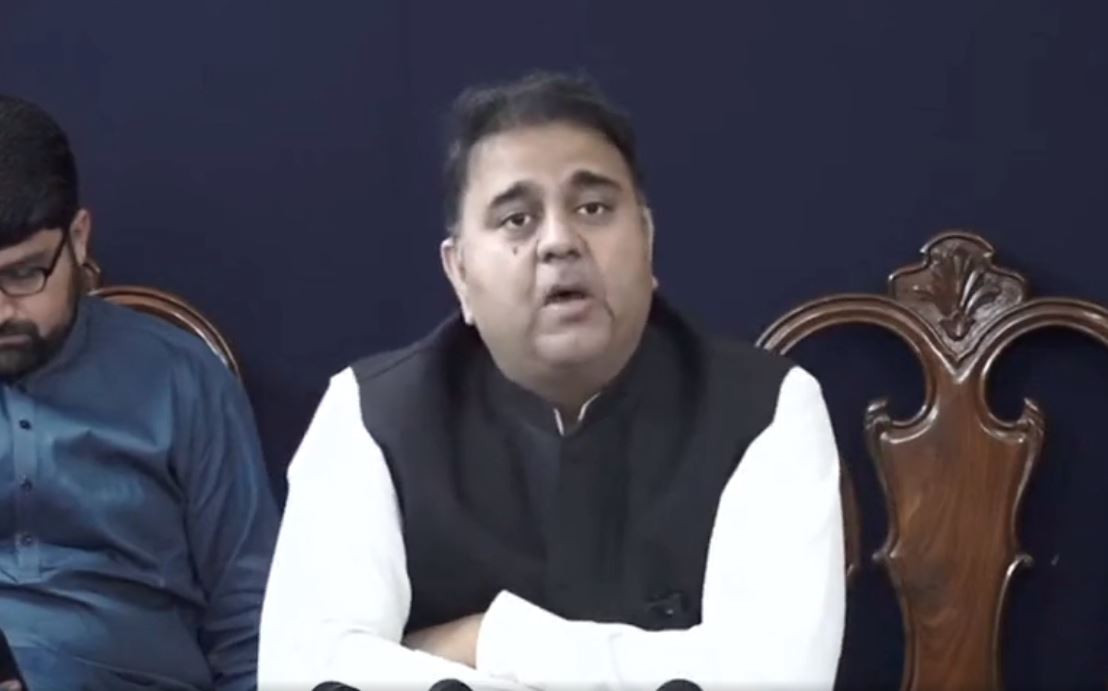 Pakistan Tehreek-e-Insaf (PTI) leader Chaudhry Fawad Hussain complained on Tuesday about there being "no rule of law", and "powerful groups holding the country's political and judicial system hostage".
The former minister's remarks came as he expressed disappointment over the FIR registered against the attack on former prime minister Imran Khan in Wazirabad.
Further criticising the system in place in the country, Fawad said that "when Narendra Modi says he does not understand who to talk to in Pakistan, we have no answer".
وزیر آباد سانحہ کا پرچہ درج نہیں ہو سکا کیونکہ ملک میں Rule of Law نہیں طاقتور گروہ ملک کے سیاسی اور عدالتی نظام کو یرغمال بنائے ہوئے ہے اس لئے جب نریندر مودی پاکستان کیلئے کہتا ہے کہ ہمیں سمجھ نہیں آتی بات کس سے کرنی ہے تو ہمارے پاس کوئ جواب نہیں ہوتا
— Ch Fawad Hussain (@fawadchaudhry) November 8, 2022
He noted that the Pakistan Army was a national power. However, the people are now "an organized force under the leadership of Imran Khan".
He asserted that justice will be sought in the cases of Arshad Sharif, Azam Swati and the Wazirabad attack.
پاکستان میں فوج ایک مسلمہ طاقت ہے لیکن عوام اب عمران خان کی قیادت میں ایک منظم قوت ہیں، اداروں کو عوام کے حقوق ماننا ہوں گے اس معاملے کا حل ہونا ضروری ہے، عوام یہ تسلیم نہیں کرے گی کہ ایک گروہ قانون سے بالاتر رہے،ارشد شریف اعظم سواتی اور وزیر آباد حملہ ان معاملات میں انصاف ہو گا
— Ch Fawad Hussain (@fawadchaudhry) November 8, 2022
In another tweet, PTI leader Shafqat Mahmood also expressed dissatisfaction over the FIR not being registered "as per the demand of the complainant".
Read LHC moved for release of accused held for attacking Imran
He said that this is "complete distortion of law", adding that it was "unacceptable". The former education minister urged the Supreme Court (SC) to take notice of it.
"By this one act our entire legal framework has been turned upside down," said Mahmood.
Not registering FIR as per the demand of the complainant is a complete distortion of law and unacceptable. By this one act our entire legal framework has been turned upside down. SC must take notice of this travesty
— Shafqat Mahmood (@Shafqat_Mahmood) November 8, 2022
Earlier yesterday, the SC had directed Inspector General (IG) Punjab Faisal Shahkar to register the FIR in accordance with the law and submit a report within 24 hours.
Chief Justice Umar Ata Bandial said that if the matter was prolonged, the SC will take suo motu action.
Following the SC ultimatum, an FIR was registered at City Police Station Wazirabad, in which prime suspect Naveed, who was arrested from the spot, was nominated in the case registered under various charges including terrorism, murder, attempt to murder and planning to kill someone.
The FIR will be presented before the top court today, in line with the Supreme Court's orders.
Zubair Niazi, a relative of Imran Khan and general-secretary of PTI Lahore chapter, had lodged a complaint before the relevant station house officer (SHO) to register the FIR against Prime Minister Shehbaz Sharif, Interior Minister Rana Sanaullah and Major General Faisal Naseer named by Imran as suspects in the failed assassination attempt.
However, the FIR has been registered on the complaint of the sub-inspector police and the three top officials cited by the PTI chief have not been nominated in the case.


Source link