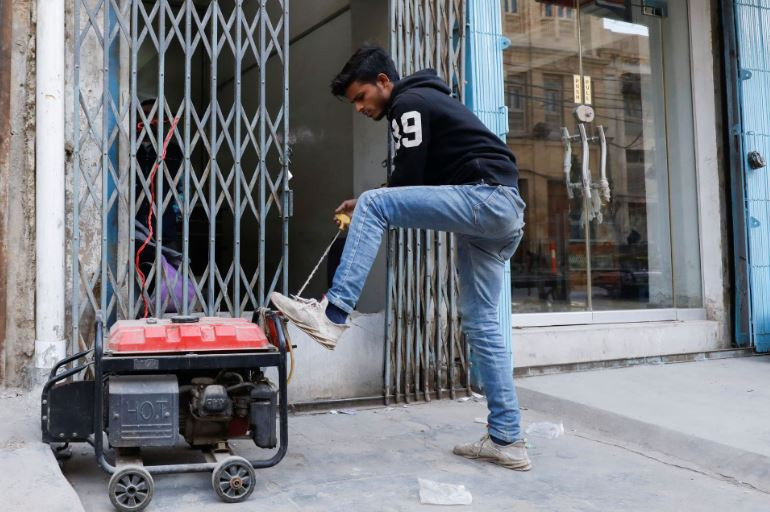 [ad_1]
Electricity has been restored in some parts of the country after a major power breakdown hit Pakistan early Monday morning due to a failure in the national grid for the second time in the last three months.
According to reports, the power supply was restored in Rawalpindi's cantonment area after eight hours of outage.
Moreover, the Peshawar Electric Supply Company (PESCO) restored power to half of the feeders in the province.
In a statement, the PESCO spokesman said that "out of 123 feeders, electricity has been restored to 50 per cent of the feeders," adding that, "work of restoration of electricity on the essential feeders of Peshawar is underway."
Earlier in the day, the Ministry of Energy confirmed in a tweet that the system frequency of the national grid went down at 7:34 am on Monday, causing a widespread breakdown in the power system across Pakistan.
ابتدائی اطلاعات کے مطابق آج صبح 7:34 پر نیشنل گرڈ کی سسٹم فریکوئنسی کم ہوئ جس سے بجلی کے نظام میں وسیع بریک ڈاؤن ہوا
سسٹم کی بحالی پر کام تیزی سےجاری ہے
— Ministry of Energy (@MoWP15) January 23, 2023
"System maintenance work is progressing rapidly," assured the ministry, adding that restoration of grid stations from Warsak has begun.
It informed that a limited number of grids of the Islamabad Electric Supply Company (IESCO) and the Peshawar Electric Supply Company (PESCO) were restored.
وارسک سے گرڈ سٹیشنوں کی بحالی کا آغاز کر دیا گیا ہے اور پچھلے ایک گھنٹے میں اسلام آباد سپلائی کمپنی اور پشاور سپلائی کمپنی کے محدود تعداد میں گرڈ بحال کر دئے گئے ہیں
— Ministry of Energy (@MoWP15) January 23, 2023
According to the Quetta Electric Supply Company (QESCO), two transmission lines from Guddu to Quetta tripped. It added that 22 districts of Balochistan, including Quetta, were without power.
Read Grid failure sets off huge power outage
Taking to Twitter, K-Electric spokesperson Imran Rana also said that the electricity providing company's "crew are busy restoring power" and maintained that their "first priority is to restore power to strategic facilities including hospitals, airports, etc."
کراچی پاور اپڈیٹ 2 – 23 جنوری بوقت صبح 10:15 بجے
کےالیکٹرک کا عملہ نیشنل گرڈ سے ہونے والی ٹرپنگ کے بعد بجلی کی بحالی کے لیے مصروف عمل ہے۔ ترجمان کے الیکٹرک
1/3
— Imran Rana, Spokesperson, K-Electric (@imranrana21) January 23, 2023
Earlier, Rana said that K-Electric is "investigating the issue" of power outages in the metropolis. According to reports, 90 per cent of Karachi has been affected.
There are reports of multiple outages from different parts of the city. We are investigating the issue and will keep this space posted.
— Imran Rana, Spokesperson, K-Electric (@imranrana21) January 23, 2023
'No major power failure'
In a statement, Energy Minister Khurram Dastgir Khan has said that there is no major power failure in the country.
He explained that the power breakdown started between Jamshoro and Dadu due to a reduction in frequency when the system was being switched on one by one this morning.
The energy minister said that the breakdown came from north to south and the system is gradually being restored from south to north. "We have started restoring some systems from Tarbela and Warsak," he added.
Read Also SBP set to raise policy rate to rein in inflation
Giving a conservative estimate, he said that the country's power supply will be fully restored in the next 12 hours. However, efforts are being made to restore power sooner.
Dastgir furthered that at the time of power generation, the effect of each megawatt on the power tariff is considered. Since the demand for electricity is lower in winter, the system is turned off at night and switched on individually in the morning.
He said that the electricity situation in Karachi is "complicated" as the K-Electric also has its own system. "The 1100 MW power supplied to the metropolis from the national grid will be restored in a few hours," he added.
Phase-wise power restoration
The IESCO has said that system maintenance is being directly monitored from the central control room and that power is being restored in a phased manner to protect the distribution system from any damage.
متعدد گرڈ اسٹیشنز سے بجلی بحالی کا سلسلہ جاری ھے بجلی مرحلہ وار بحال کی جا رہی ھے تاکے ڈسٹری بیوشن سسٹم کو کسی بھی نقصان سے محفوظ رکھا جا سکے
— Islamabad Electric Supply Co. IESCO (@IESCO_Official) January 23, 2023
Power restoration is ongoing for various grid stations in areas of Islamabad and Rawalpindi, including the 132 KV grid station at Zero Point, D-12, F-6, F-16, G-5, G-9 and I-8 as well as Adiala, Chaklala and Chakri.
Maintenance work is also ongoing in other cities of Punjab, including Attock, Chakwal and Jehlum.
Read More KE, NEPRA put on notice for power outages
The IESCO spokesman assured that power restoration to other grid stations will also start soon, adding that a full system restoration will take time.
Earlier in the day, the spokesman said that the electricity supply to 117 IESCO grid stations has been suspended.
While no clear reason for the suspension has been given yet by the IESCO Region Control Centre, the company maintained that its "management is in constant communication with the concerned authorities".
آئیسکو کے 117 گرڈ اسٹیشنز کو بجلی کی فراہمی معطل ریجن کنٹرول سینٹر کی جانب سے ابھی تک کوئی واضح وجہ نہیں بتائی گئی
آئیسکو انتظامیہ متعلقہ حکام کے ساتھ مسلسل رابطے میں ہے
— Islamabad Electric Supply Co. IESCO (@IESCO_Official) January 23, 2023
NEPRA takes notice
In a strict notice issued by the National Electric Power Regulatory Authority (NEPRA), the country's power authority sought a report on the blackout from the National Transmission & Despatch Company (NTDC).
It noted that NEPRA has "continuously been issuing instructions and recommendations to prevent such incidents in future", adding that it had imposed penalties for incidents of blackouts and tower collapses in the country in 2021 and 2022.
The sorry state of Pakistan's power sector is emblematic of an economy that has lurched from one International Monetary Fund bail-out to the next, with electricity outages occurring frequently due a lack funds to upgrade aging infrastructure.
When the grid broke down in October it took several hours before power was restored.
It is pertinent to note that the country has enough power installed capacity to meet the demand, especially in winter, when it mostly has a surplus.
But Pakistan lacks resources to run its oil and gas powered plants and the sector is so heavily in debt that it cannot afford to invest in infrastructure and power lines.
"Generators are too far from the load centres and transmission lines are too long and insufficient," a top power official who did not want to be quoted because he was not authorised to speak to the media, told Reuters.
(With additional input from agencies)

[ad_2]
Source link