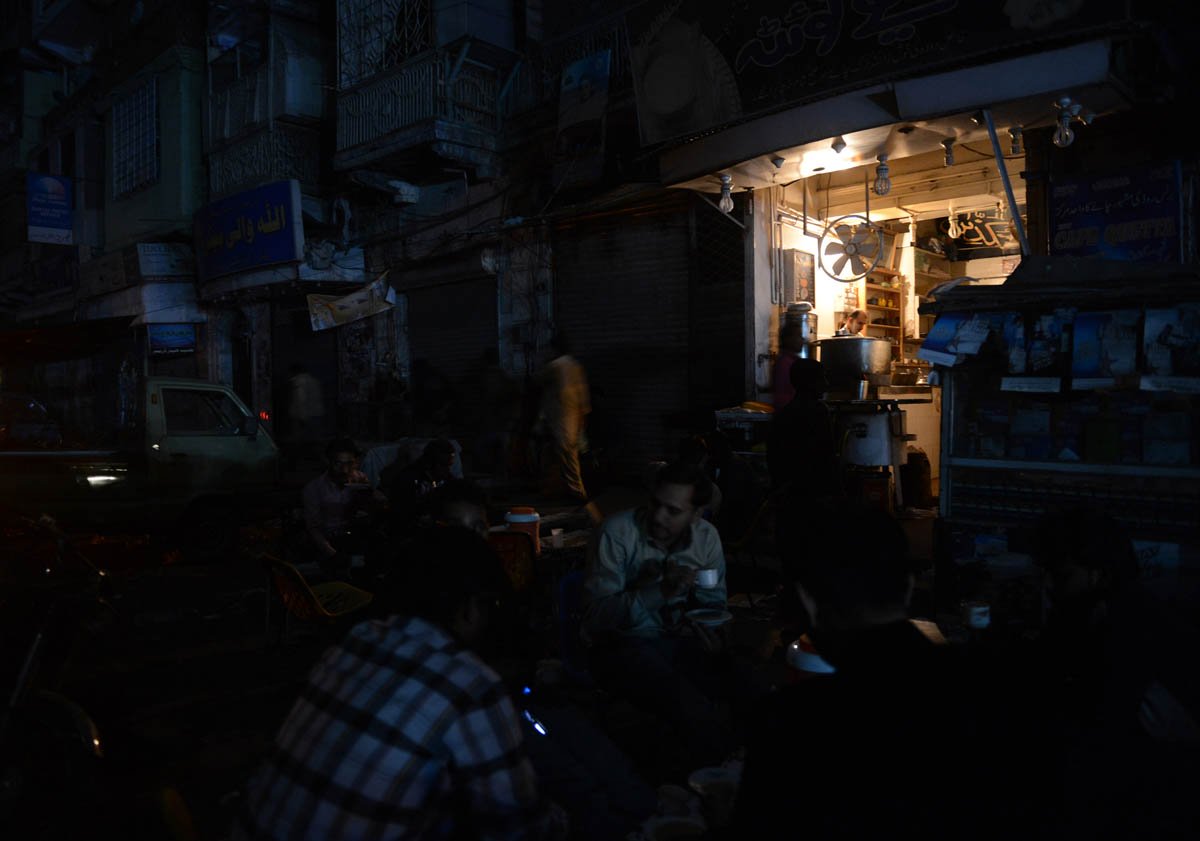 As the punishing heatwave baking the country intensified, power consumers had a bad day on Monday when the energy shortfall again exceeded 7,000 megawatts, resulting in extensive power cuts of up to seven to 10 hours.
Sensing the severe cost of unannounced load-shedding during the holy month of Ramazan, particularly in the political heartland, Prime Minister Shehbaz Sharif had to resort to the old mantra of blaming his predecessors for the scourge.
"The PTI government neither purchased fuel in time nor repaired power plants. Hence the current load-shedding," he said in a tweet.
Shehbaz recalled that previously, Pakistan Muslim League-Nawaz Quaid Mian Nawaz Sharif during his government had ended the worst load-shedding in five years.
He mentioned that expensive power generation by the previous PTI government through inefficient plants was costing the people Rs100 billion per month.
PM Shehbaz said his government was making efforts to fix the problem of load-shedding. Sources in the Power Division told The Express Tribune that the required supply of liquefied natural gas (LNG) and furnace oil has not been achieved so far, adding that because of fuel hurdles and technical reasons, power plants were unable to generate electricity.
The shortfall reared its head as temperatures crossed 40 degrees Celsius in parts of Sindh and south Punjab, while major load centres such as Lahore, Karachi and the areas around Rawalpindi and Islamabad witnessed highs of 43, 37 and 36 degrees Celsius, respectively.
The sources revealed that at the moment the demand stood at 25,500MW against the generation of 18,031MW, reflecting a shortfall of 7,469MW, while the country's power generation capacity was 36,016MW.
READ Fuel subsidy only for motorcyclists, not for 'elites having big vehicles': Miftah
Currently, the hydropower stations were generating 3,674MW, state-owned thermal power plants 786MW, and private sector power plants were generating 9,526MW. Wind power plants were generating 487MW, solar power plants 104MW, and bagasse 141MW while nuclear power plants 3,312MW.
The sources said Nandipur Power Plant with a capacity of 525MW, 1,000MW Muzaffargarh, 400MW Jamshoro and Atlas Powergen had yet to start feeding electricity to the national grid.
Load-shedding of 18 hours had also been observed in high-loss areas of the country. They said load-shedding varied under different distribution companies, but the average remained within six to eight hours, excluding low-recovery and high-loss areas where longer power cuts were applied by the respective companies.
OCAC confirms ample fuel supply
Alarming reports of fuel shortage due to a possible increase in petroleum prices made rounds on Monday night.
However, the Oil Companies Advisory Council (OCAC), the primary representative of the downstream oil industry of Pakistan, reported that ample stocks of motor spirit (MS) and high speed diesel (HSD) were available in the country owing to the support of refineries in providing locally produced fuel products, and to OMCs for planning imports and meeting volume commitments timely despite the limited product availability in the international market due to geopolitical tension.
Since HSD sales had drastically soared in the country due to the harvesting season, the OCAC was actively playing its role in effectively managing the surged demand in consultation with the industry, Ogra and the Ministry of Energy (Petroleum Division).
Pertaining to the details for uninterrupted fuel supply in the country, cargoes carrying sufficient HSD volumes were already waiting off-port and would be discharged on their due turn, while other planned cargoes were expected to arrive soon. Similarly, motor gasoline reserves were sufficient to meet the demand of the country, while additional volumes were coming in through planned imports.
OCAC Secretary General Dr Nazir Abbas Zaidi said, "Pakistan is an energy deficient country and therefore, a deficit in fuel supplies is catered through imports."
As a result of constantly increasing imports volume and infrastructure constraints, she continued, there were challenges at ports owing to congestion and bunching of vessels.
"However, OCAC is effectively striving to handle these challenges in collaboration with Ogra by suggesting recommendations to ensure that the fuel supplies remain streamlined. Hence, it is vital to avert uncertainty and abnormal buying patterns amid ambiguous speculations."
The OCAC reiterated that there was ample inventory of fuel supplies in the country, including cargoes waiting for off-port and other vessels lined up to arrive soon, therefore, citizens were requested to buy fuel products as per regular demand and not let ambiguity translate into desperate bulk buying.
Ogra spokesperson said that all stakeholders should know that adequate fuel supplies were available across the country.
There were speculations about diesel shortages in a few pockets of Punjab.
Ogra with all law enforcement agencies along with district management was monitoring the situation.
"Anyone involved in hoarding or short supply shall be dealt with, in accordance with the law," the Ogra spokesman said.