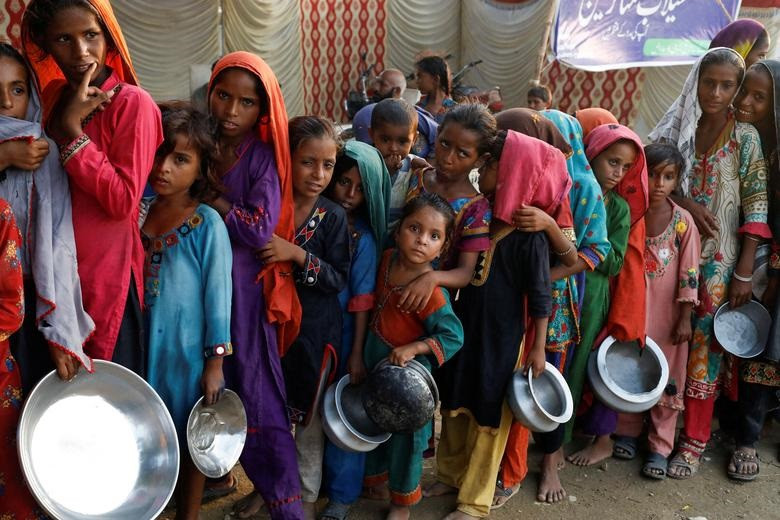 The prevailing political tussle in the country has multi-faceted impacts on the national canvass that also include the relief and rehabilitation efforts in the aftermath of the recent devastating floods in the country, a visit to the affected areas revealed on Thursday.
It appears that the ongoing political tensions between the ruling coalition, led by the PML-N, and its arch-rival the PTI, has put the flood relief efforts on the back burner, and as a result, the affected population continues to suffer.
The UN needs $816 million for its affiliated organisations to provide relief to the flood-hit people on the ground. However, because of the situation inside the country, it could only collect $174 million or 21% of the required funds so far.
"If the funds are not available, relief goods will not reach the affected people in the next one month or so," a representative of a non-government organisation (NGO) told The Express Tribune during a visit to Dadu – the most flood-affected district of Sindh.
More than three months have passed since the devastating floods unfolded, affecting around 9.5 million people in the province. Major towns in the district such as Mehar and Khairpur Nathan Shah are still inundated by floodwater.
Tens of thousands of people are forced to live in tents. A few domestic and international NGOs, including the UN organisations, are providing them food and tents, while children are being taught in temporary schools.
"The situation is still very agonising even after three months," the NGO representative said.
"The plight of the flood victims in almost all areas, including Dadu, is very severe.
These people want to go back to their homes, but their houses were destroyed or swept away in floodwater," the NGO official added.
Other NGO representatives also confirmed that many people were still living in tents, set up on the dry tracts or on roadsides, since the gushing floodwater swept away their villages and towns. Among them, they added, children were the hardest hit.
"Children are suffering from severe malnutrition, which is why if effective relief measures are not taken in the next few months, there is a major threat that they might die," another NGO representative told The Express Tribune.
The floods started after above-normal rains in Sindh and Balochistan in late July. However, in August, more than 300% above average rain unleashed floods, as a huge quantity of water made its way to the lowlands in Sindh, uprooting some 5.4 million people from their homes.
Officials associated with UN-based organisations said they were receiving reports of psychological problems among the people in the flood-hit areas. They regretted because of the current political situation, floods in Pakistan could not be highlighted effectively at the global level.
"The UN and other NGOs are working on the flood aftermath, but it has become difficult to obtain more aid for flood victims. So far, only 21% of the promised aid has been received from the $816 million relief appeal," the NGO representative said.


Source link