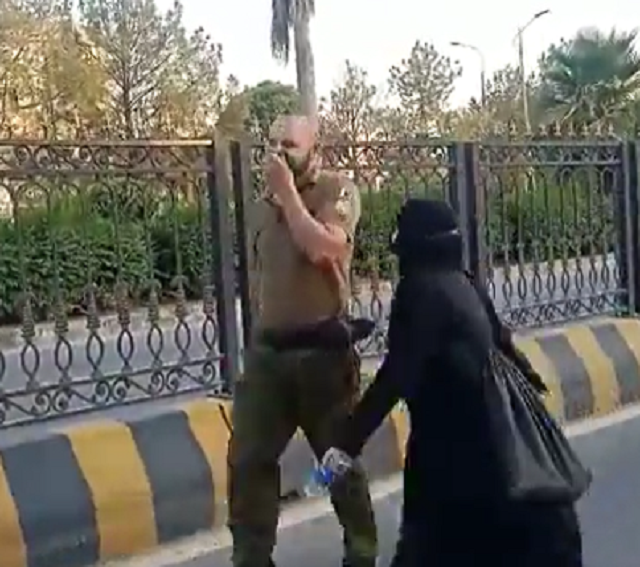 A policeman earned praise from social media users belonging to all walks of life for showing restraint in face of abuses hurled at him by an alleged woman PTI supporter during PTI's 'Azadi March' in Islamabad.
The video, which went viral on social media, shows the woman wearing a black burqa shouting and hurling insults at Rawalpindi constable, Muhammad Shahbaz.
Constable Shahbaz
Your are Hero. ❤️
You are our Hero.
Your are a Hero of Pakistani nation.
You are a Hero of police dept. ❤️
Notion is proud of you for dealing with that shit. @OfficialDPRPP@ICT_Police pic.twitter.com/xb686QTiCh
— Jamil Qureshi (@Jamils641) May 27, 2022
Instead of responding to the PTI supporter, the policeman in a rare display of decency and patience ignored the unruly party activist and continued walking silently along the road.
شہری سوشل میڈیا پر وائرل ہونے والی کانسٹیبل شہباز کی ویڈیو کے گرویدہ ہوگئے۔
لانگ مارچ کے دوران ایک مشتعل خاتون نے کانسٹیبل شہباز کے ساتھ غلیظ زبان کا استعمال کیا اور اشتعال دلوانے کی کوشش کی۔جس پر کانسٹیبل نے بہت زیادہ صبر وتحمل کا مظاہرہ کیا۔۔ @RwpPolice pic.twitter.com/RBPJlup4xF
— Punjab Police Official (@OfficialDPRPP) May 26, 2022
During the long march, the enraged woman was reportedly setting fire to the trees with her companions and lost cool when she was stopped by the policeman and vented her anger on the constable.
Rawalpindi police CPO Syed Shehzad Nadeem Bukhari awarded appreciation certificate and cash prize to the constable "for his exemplary conduct".
سی پی او سید شہزاد ندیم بخاری کی لاء اینڈ آرڈر ڈیوٹی کے دوران مثالی رویہ کا مظاہرہ کرنےوالے پنجاب پولیس کے کانسٹیبل محمدشہبازسے خصوصی ملاقات، تعریفی سنداور نقد انعام سے نوازا۔ راولپنڈی پولیس کے افسران نےکانسٹیبل محمد شہباز کے اعزاز میں کھڑے ہوکرتالیاں بجاتےہوئےخراج تحسین پیش کیا۔ pic.twitter.com/prx6bmQHyN
— Rawalpindi Police (@RwpPolice) May 26, 2022
Within a few hours, the video received millions of likes and thousands of tweets. Social media users praised Constable Shahbaz and criticised the woman's behaviour.


Source link