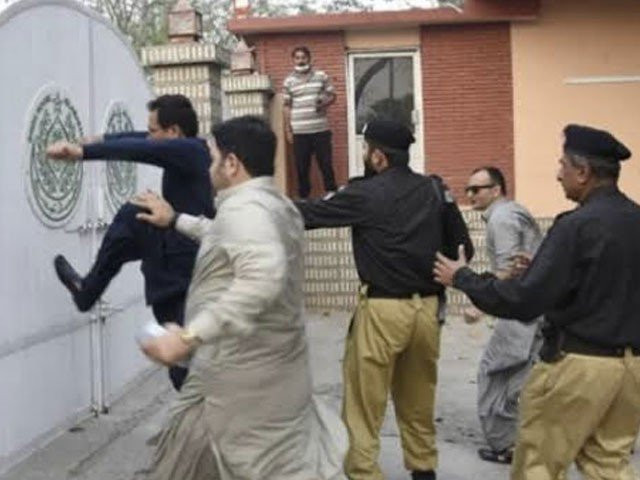 The Islamabad police have arrested three former ruling party leaders, including two MNAs, for their involvement in an attack on Sindh House last month where 'dissident' PTI lawmakers had been allegedly holed up.
The Pakistan Tehreek-e-Insaf (PTI) lawmakers Faheem Khan and Attaullah and party leader Rai Tanveer, the leader of the party's youth wing, were detained outside the courtroom after their request for the interim bail was dismissed by Islamabad High Court (IHC) Justice Tariq Mehmood Jahangiri.
The lawmakers, who have resigned from the National Assembly, were granted interim bail on April 16 by the same judge; however, their request was dismissed today. The police will produce them before a sessions court on Wednesday for remand in the case.
On March 18, Faheem Khan and Ataullah, along with a group of charged party workers had stormed the Sindh House, knocking down a gate and shouting slogans, and holding lotas (spouted globulars) in their hands to symbolise 'turncoats'.
Read 13 PTI workers who attacked Sindh House released
The Sindh House was attacked after then prime minister Imran Khan and some of his ministers had accused the opposition of indulging in horse-trading ahead of the crucial vote on the no-confidence motion. They had said that the Sindh House had become a centre for buying lawmakers.
The police had registered an FIR against the PTI workers for violating Section 144 imposed in the federal capital and also included sections for vandalising government property.


Source link