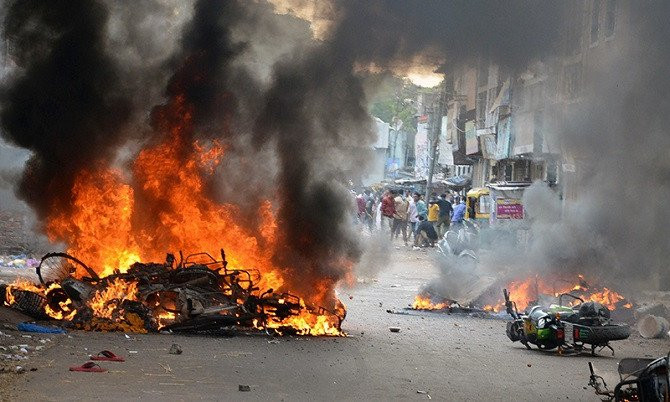 More than 50 people have been arrested for the violence which rocked Jamshedpur in Jharkhand, following the alleged desecration of a religious flag, police said on Monday (April 10).
Those arrested in the Jamshedpur communal violence include Bharatiya Janata Party (BJP) leader Abhay Singh, said senior superintendent of police Prabhat Kumar, adding that further investigations were on.
The arrests took place even as authorities imposed prohibitory orders, banning the assembly of five or more people, in Shastri Nagar area, where brick-batting and arson took place between two groups on Sunday evening.
Police conducted a flag march in the area on Sunday morning, Kumar said. And added that adequate police force has been deployed at Shastri Nagar to maintain law and order. Locals also complained of the disruption of Internet services, but there was no official confirmation about it.
Street violence
Two shops and an auto-rickshaw were set ablaze in the street violence, while the police fired tear gas to disperse the mobs on Sunday.
Also read: India stalls trade talks with Britain over Sikh separatist group: reports
Tension had been brewing in the area since Saturday night, when members of a local organisation found that a piece of meat was tagged to a religious flag, police said. The situation turned violent on Sunday evening when a shop was gutted, leading to the violence.
East Singhbhum district deputy commissioner Vijaya Jadhav had on Sunday accused "anti-social elements" of trying to disturb peace and sought the cooperation of the people to maintain peace.


Source link