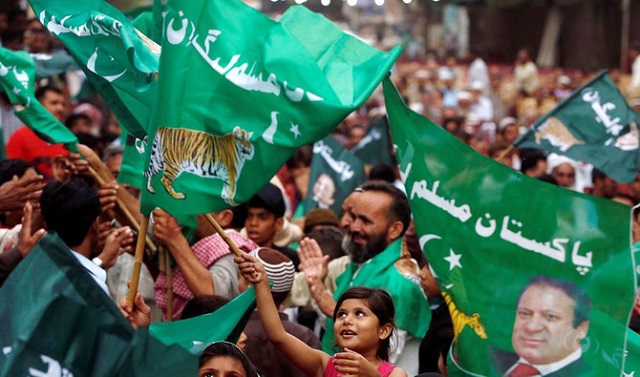 Stealing a march on PTI that seems to be shilly-shallying over the issue of dissolving assemblies, the PML-N – which earlier seemed pessimistic about the prospects of snap polls –appeared to be putting a positive spin on the threat on Friday as it challenged Imran Khan to walk the talk to find out his real worth in elections.
The Shehbaz Sharif-led ruling party in the Centre said it had started preparations to welcome the party's supreme leader, Nawaz Sharif, and asserted that the return of the party supremo would decide the results of the election in Punjab.
Apparently reassured, PML-N leaders during two different press conferences challenged the former ruling party to follow through on its threat under their party's control.
Addressing a press conference in Islamabad, PML-N leader Talal Chaudhry, went so far as to term the PTI-led provincial governments an "insurance policy" of Imran Khan. He said it will become much easier to arrest the PTI chief in a slew of cases against him if these two governments are gone.
Read more: Sanaullah challenges Imran to dissolve assemblies
On the other hand, Interior Minister Rana Sanaullah holding a press conference in Lahore said that PML-N was ready to face PTI in elections and asked the party to stop giving deadlines and dissolve the assemblies forthwith.
The PML-N's provincial president in Punjab said that the provincial election in the province will expose the reality behind the facade of Imran's popularity, adding these elections will even decide the fate of coming general elections as Punjab constituted 65 per cent of Pakistan.
He said that there should be no hurdles as Imran Khan has the dissolution document from CM Punjab in writing with him. He said that if they move for the dissolution of the assembly in Punjab he will get it approved by Governor Punjab in no time. He however also added that they were not in favour of dissolving assemblies as they believe that assemblies should complete their tenure but said that they have had it with the hollow threat of Imran Khan.
Asked about the efforts that PPP co-chairman Asif Ali Zardari to intercept the dissolution of assemblies with reference to his meeting with PML-Q chief Chaudhry Shujaat, Sanaullah said that these talks were regarding Punjab Chief Minister Chaudhry Parvez Elahi.
'New arrangement' with Elahi
The PML-N's provincial present said that he was privy to information which suggested was not in favour of dissolving the assembly.
Also read: Zardari, Shujaat discuss Punjab's political situation amid Imran's threat
He suggested if Punjab CM Pervez Elahi joined the ruling coalition in the Centre for a new arrangement and relinquished his chief ministership, the PDM "can consider something for him".
Sanaullah also stated that he had met with Chief Minister Punjab Pervez Elahi during the command change ceremony wherein he had complained to him about the change of his attitude and of adopting PTI ways of politics, to which Rana said Pervez rejected this impression of him having changed his politics for PTI.
He also announced that they have decided to begin with their preparations for early elections in Punjab. He said that they have divided Punjab into three zones, every zone will be headed by a team of divisional and district presidents and general secretaries and senior parliamentarians.
The committees within two weeks will interview prospective candidates, sitting parliamentarians and ticket holders and present the party with two names in every provincial assembly constituency.
The committees will also create consensus amongst the party workers on the names being forwarded to the party leadership. He said that they would even want their party workers at the union council level to suggest the best candidates.
Party preps for Nawaz's return
The PML-N's provincial president announced that they have also decided to start preparing for Nawaz Sharif's grand reception.
He said that committees would be formed at the union council level and party workers, under the union council name and banner, will reach Lahore to welcome Nawaz Sharif.
"This welcome will also decide the fate of the election. When the election is announced, Mian Nawaz Sharif will return back to lead the party in the [Punjab] elections, Sanaullah said. He added Nawaz will be requested to return to Pakistan before general elections to lead the election campaign.
The minister asserted that general elections would take place in October 2023. "But if one assembly or both are dissolved, the provincial elections will take place within 90 days".
With regard to the party's election campaign, the PML-N leader said He said that there are nine divisions in Punjab, and when rallies will be held at every division, nothing would be left to guesswork.
However, he did not elaborate on whether these were rallies planned to take place before the homecoming or after.
He said that they will go to the people and let them know who was responsible for the mess the country was in. He said that they will absolve themselves of the blame for this economic turmoil.
The interior minister said that no party was in a position to fix the crises PTI has landed the country into, adding that a 'charter of economy' was a need of the hour without which remedying the crises would a very difficult task.
He said the NAB chairman "who has upheld merit all his life should be cautious in dealing with their [PTI and Imran Khan] cases, but he should not let merit become a reason for inordinate delay in deciding cases against these people".
He warned that this delay will allow the PTI to "find a way out of these cases" and people, in general, will lose their patience over this delay. Strict accountability should be practised for such people, he added
He also claimed that the NAB amendment, which gave a free pass to the majority of leaders in sitting government from corruption cases, was made to ensure that NAB can no longer be used for political victimisation.
He chided Imran Khan for levelling "false accusations" against his opponents and in its wake hurting the interests of the country. He said that the Daily Mail story was one such example of that. He said that ANF too lost its credibility after PTI used it for political victimisation.


Source link