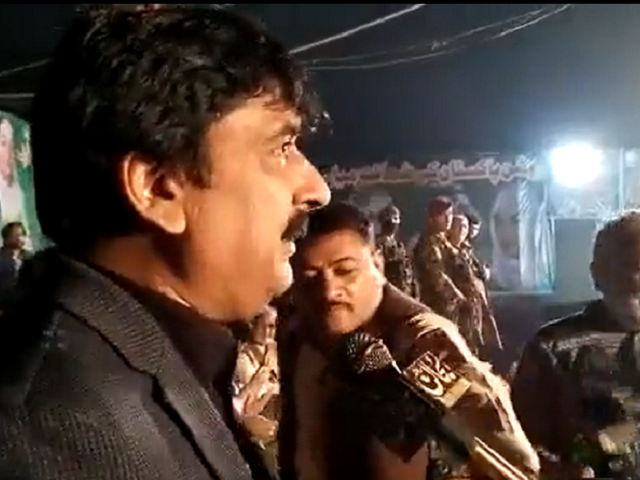 Former vice chairman of Pakistan Muslim League-Nawaz (PML-N) District Hafizabad Rai Qamar was arrested for "seriously" threatening Pakistan Tehreek-e-Insaf (PTI) chief Imran Khan.
Punjab Chief Minister Chaudhry Pervez Elahi announced the arrest on Sunday with a tweet saying the PML-N leader had been "arrested and booked for issuing serious threats to the PTI chairman".
ن لیگ کے سابق وائس چیئرمین ضلع حافظ آباد رائے قمر کو چئیرمین پی ٹی آئی عمران خان کو سنگین دھمکیاں دینےپر گرفتار کرکے مقدمہ درج کر دیا گیا ہے۔ عمران خان کو دھمکیاں دینے والے کے خلاف بلاامتیاز قانونی کارروائی کی جائے گی۔کسی کو بھی قانون ہاتھ میں لینے کی اجازت نہیں دی جائے گی۔
— Ch Parvez Elahi (@ChParvezElahi) November 6, 2022
"Legal action will be taken against anyone who threatens Imran Khan," he added, "no one will be allowed to take the law into their hands."
The news was also verified by his son and PML-Q leader Moonis Elahi.
Fir was registered and he has been arrested! https://t.co/Pw9M0XydUi
— Moonis Elahi (@MoonisElahi6) November 6, 2022
It may also be noted that social media users had raised concerns after video footage of Rai Qamar had surfaced on various platforms where he can be heard threatening Imran while addressing a public event.
Read Imran's relative files FIR request with SHO Wazirabad over assassination bid
"Imran Khan the instigator [fitna], the watch thief that has been verified by the courts, claims he was shot at the behest of Mian Muhammad Shehbaz Sharif," he is heard saying, "by the grace of God, if he would order me I will show you how a fire is shot and I dare you to survive that".
Upon this, he is seen to be stopped by PML-N leader Saira Afzal Tarar among other leaders present on stage while a few can be heard laughing in the background and he immediately apologises for his statements.
He then continues to say that the thoughts he had expressed were "not party policy, only my own opinion".
"I felt absolutely no sorrow over Imran being shot," he adds saying that he "personally regretted and felt grief" about the man that was "martyred" during the attack.
"I feel no grief about Imran Khan being shot at," he reiterated adding that he hoped to "get the attacker a lawyer and meet with him".
It may be noted that condemnations of the attack on the former prime minister have poured in from home and afar, including politicians, military, journalists as well as world leaders.


Source link