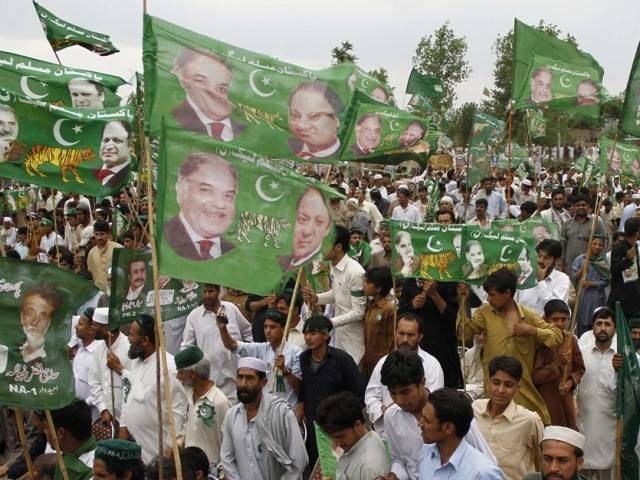 Pakistan Muslim League-Nawaz (PML-N) supremo Nawaz Sharif and Prime Minister Shehbaz Sharif have decided to mobilise party workers across the country, it was reported on Sunday.
As per reports, the party has started a series of nationwide workers' conventions and provincial officials have been instructed to phase out these conventions.
The PML-N has also issued a schedule for holding the workers' convention from December 11 to 17.
The move of increasing party activities by the government comes after Pakistan Tehreek-e-Insaf (PTI) Chairman Imran Khan announced that he will dissolve provincial assemblies in Khyber-Pakhtunkhwa (K-P) and Punjab in December in a bid to force the incumbent government into early elections.
As per the schedule issued by the PML-N, the first workers' convention will be held today in Rawalpindi, Sialkot, while the party's K-P President Engineer Amir Muqam will hold a convention in Mardan's Shergarh town as per the instruction of the premier.
Muqam is also expected to address the convention at 3:30 pm.
Read Uncertainty abounds around dissolution of assemblies
Moreover, Dr Tariq Fazal Chaudhry has been assigned the responsibility of conducting the workers' convention in Islamabad on December 13.
A day later, another convention will be held in Lahore and Khawaja Imran Nazir will make arrangements for the gathering.
Subsequently, a workers' convention will be held in Sheikhupura on December 15 and Mian Javed Latif will organise it.
The party's schedule furthered that the convention will be held in Kasur on December 16 which will be arranged by Malik Ahmad Khan, while on December 17, Interior Minister Rana Sanaullah will host a party workers' convention in Faisalabad.
Punjab governor calls on PM
Earlier today, governor of Punjab Muhammad Baligh Ur Rehman called on the prime minister.
According to a press release by the PM house, the two discussed the overall political situation in the country during the meeting.
وزیرِ اعظم محمد شہباز شریف سے گورنر پنجاب بلیغ الرحمن کی ملاقات. ملاقات میں ملکی سیاسی صورتحال پر تفصیلی گفتگو.#APPNews pic.twitter.com/FeP3hWYwJW
— APP 🇵🇰 (@appcsocialmedia) December 11, 2022