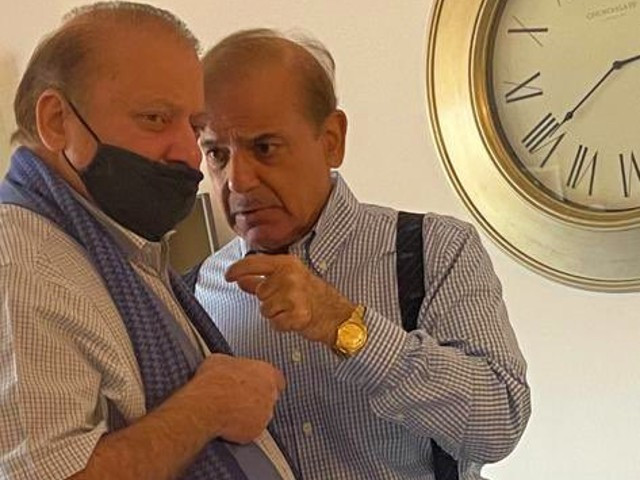 Prime Minister Shehbaz Sharif met with the former prime minister and Pakistan Muslim League-Nawaz (PML-N) supremo Nawaz Sharif and former finance minister Ishaq Dar on Saturday as the trio discussed the problems facing the country including economic challenges and other issues.
Insiders told The Express Tribune that the premier apprised his elder brother about the meetings with world leaders including US President Joe Biden on the sidelines of 77th UNGA session in New York. During the meeting, Ishaq Dar informed the prime minister about his plan to return home.
During the meeting, Dar's return and the issue of his Senate oath were also discussed. The trio also discussed ways to manage the economy, inflation and reducing dollar price.
😍@NawazSharifMNS @CMShehbaz pic.twitter.com/cS11TgUzTr
— Anwar Ali Balti (@Abalti1) September 24, 2022
Dar, who alongside Nawaz lives in London in self-exile, apprised the participants about his plans for returning to the country and his appearance before the accountability court. He said that after his appearance, he will take oath as a senator.
Read more: Dar gets physician's NOC to fly to Pakistan
"I will do whatever duty I will be given by the party leadership like in the past," the insiders quoted him as saying during the meeting.
Government sources said that upon Dar's return to Pakistan, the current team of the finance ministry will give him a briefing on the current economic conditions of the country.
After becoming the senator, Dar will take oath as the finance minister.
The trio in today's meeting expressed hope that the former finance minister would emerge victorious in the court as well.
On Wednesday, Dar said that his doctor had given him "conditional permission" to return to Pakistan and expressed his willingness to appear in court for hearings within 15 days.
Read more: PML-N leader Ishaq Dar confirms his return to Pakistan next month
The former minister's statement came hours after he withdrew his petition from the Supreme Court that had sought suspension of the accountability court's order decision to declare him an absconder.
Explaining the rationale behind his decision to withdraw the plea, Dar had said that his petition had maintained that he wanted to come to Pakistan within 15 days.
"Therefore, the honourable accountability court should suspend their arrest warrant and the petitioner should be allowed a fair trial in this case," Dar had said.


Source link