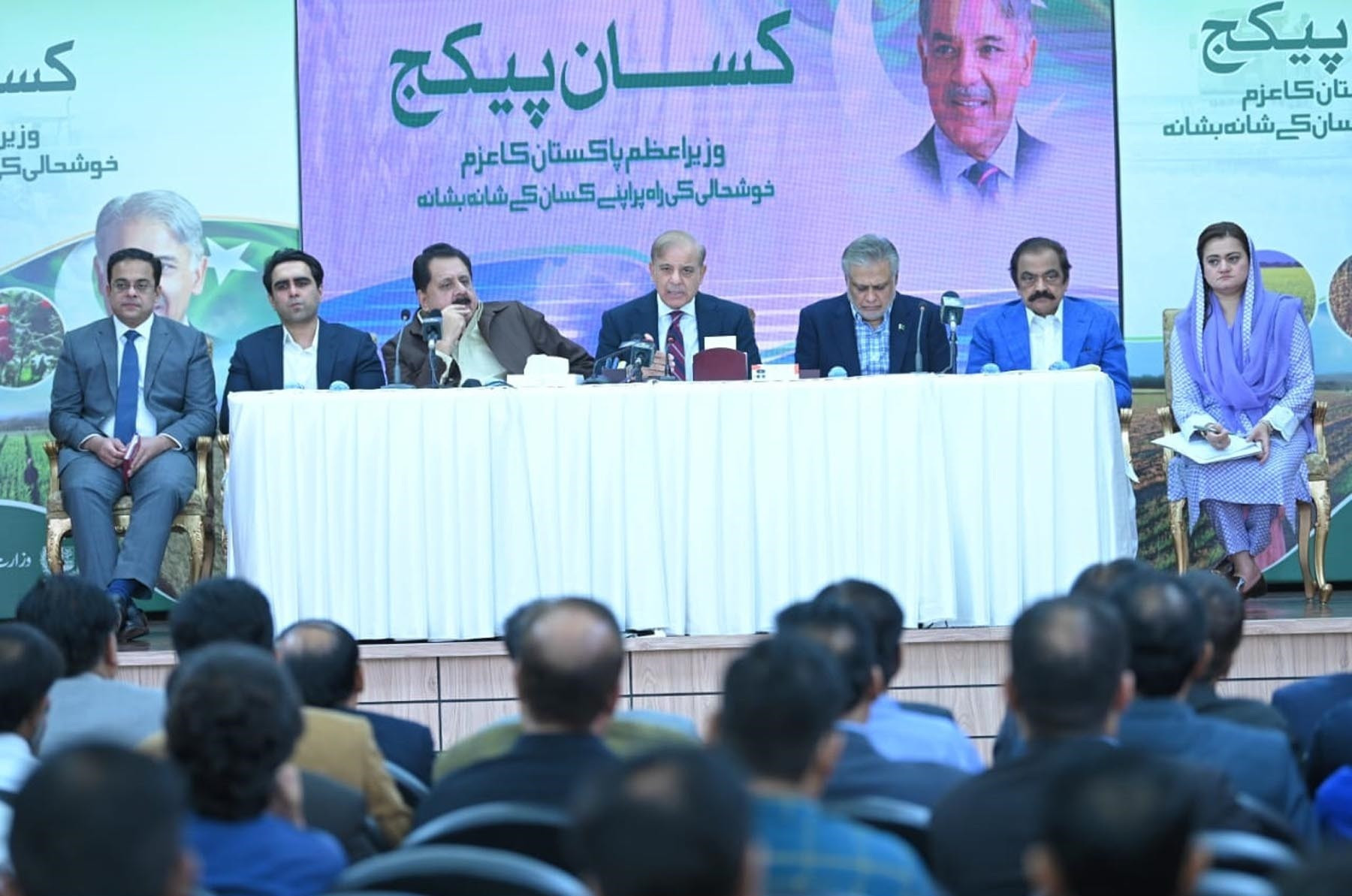 Prime Minister Shehbaz Sharif on Monday announced a special package for the agriculture sector worth Rs1,800 billion to stimulate farm production and ensure an adequate level of grower income, particularly in the flood-hit areas of the country.
The package, announced at a press conference in Islamabad, would ensure provision of free seeds and inexpensive loans besides bringing down fertiliser prices and electricity for tube-wells in the flood-hit areas.
The prime minister, who avoided taking political questions at the press conference, said that the package was aimed at providing relief to the flood-affected people of the country.
When asked if the Kissan package was budgeted, and from where the money would come, while keeping in view the IMF programme, Finance Minister Ishaq Dar said that all the items of the relief package were taken care of.
"Most of the items are budgeted and funded and hopefully we will not have any problem with IMF," Dar said, adding that the package was the need of the hour for farmers.
"See…Dar would plead with the IMF; if I repeat a sentence in English language then the discussion would divert to politics so let's leave it but we are doing our best for it," Prime Minister Shehbaz told reporters.
Through the package, Shehbaz said that the coalition government had decided that Rs1,800 billion worth of loans would be provided to farmers, which was an increase of Rs400b compared to previous year.
While sharing details of the package, Shehbaz said that Rs10 billion had been allocated to waive interest cost on loans to small farmers, whereas Rs8 billion had been allocated for flood-affected farmers.
In rural areas, the prime minister said, Rs50 billion subsidised loans would be provided to young entrepreneurs in the agriculture sector, adding that small and medium enterprises in the agriculture sector would also be given Rs10 billion loans for modernisation schemes. Landless farmers in the flood-hit areas would be given Rs5 billion, he revealed.
Also, he added, 1.2 million bags of certified seeds would be provided to flood-affected farmers. "It will have an impact of Rs13.2 billion and 50% contribution each would come from the federation and the provinces," he said.
Among other things, Shehbaz announced that import of second-hand tractors – up to 5 years old – would be allowed with an upper limit of 50% duty rebate.
In addition, he said, duties on completely knocked-down kits (CKD) tractor parts would be reduced from 35 to 15% for new entrants in the industry. He revealed that the decision was taken after the tractor industry refused to decrease prices.
Moreover, Shehbaz said that import of 500,000 tons of urea had been allowed, out of which 200,000 tons of urea had already been imported. "The government will give Rs30 billion subsidy for providing urea to farmers at a lower cost, he added.
He said that DAP [diammonium phosphate] price would be reduced by Rs2,500 per bag to Rs11,250 per bag as a result of negotiations with the fertiliser industry.
Also, he added, import of 1.6 million tons of wheat had been allowed, taking total allowance to 2.6 million tons. Out of this, he said, 1 million tons of wheat had already been imported during the year. He assured that there will be no shortage of wheat in the country and wheat would also be provided to provinces.
Shehbaz said that some 300,000 tube-wells in the country ran on electricity. He added that the owners of those tube-wells would be provided interest-free loans to help them convert to solar energy.
Moreover, he said, a fixed electricity rate of Rs13 per unit would be charged from the farmers operating tube-wells on grid electricity, adding that it would have an impact of Rs43 billion.
He said that there couldn't be a better Kissan package than the one announced, hoping that the economic condition would get better, once the agriculture sector thrived.
He said that the package worth roughly Rs600b was needed to be announced as the country would have to spend billions of dollars on importing food items if agriculture yield was not increased by taking timely steps and measures.
When asked about the call from PML-N supremo Nawaz Sharif to provide free electricity up to 300 units as well as provide solar panels in Punjab and Khyber Pakhtunkhwa, Shehbaz said that fuel adjustment charge up to 300 units had already been deferred.


Source link