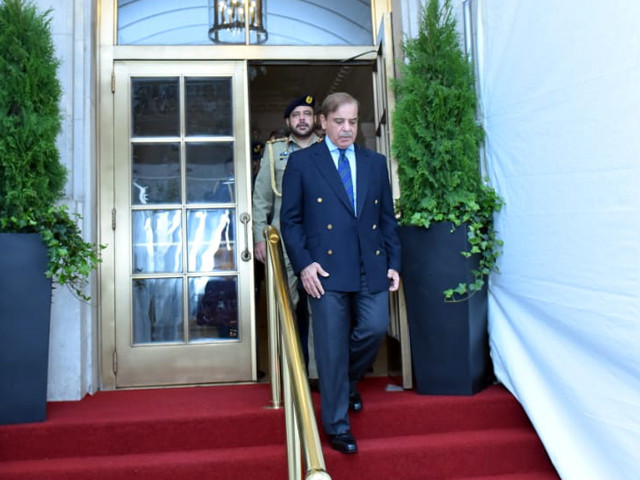 Prime Minister Shehbaz Sharif will have a packed first day at the 77th session of the United Nations General Assembly in New York on Tuesday.
The premier, who landed in the United States earlier today, is expected to attend a number of high-profile events and meet several foreign dignitaries on day one of the week-long event.
The premier will reach the United Nations Headquarters for a welcome reception hosted by the UN Secretary-General Antonio Guterres for the heads of states and governments participating in the UNGA.
Prime Minister Muhammad Shehbaz Sharif leaving for the UN HQs to attend a Welcome Reception hosted by the UN Secretary General, H.E Mr. Antonio Guterres for the Heads of States/Governments participating in the 77th Session of UN General Assembly (UNGA77).#PMPakatUNGA pic.twitter.com/reomHG23yW
— PML(N) (@pmln_org) September 20, 2022
He will later attend the opening of the High-Level General Debate of the UNGA at the General Assembly Hall.
Following that, the prime minister will hold bilateral meetings with French President Emmanuel Macron, Chancellor of Austria Karl Nehammer, President of Spain Pedro Sanchez Perez-Castejon and Sayyed Ebrahim Raisi, President of Iran.
Later in the afternoon, PM Shehbaz will sit down with the New York Time's Editorial Board for an interview at The Times Centre.
Read Shehbaz to attend Biden reception in New York
He will then be called on by US Special Envoy for Climate Change John Kerry.
Earlier today, the premier vowed to highlight the plight of flood victims in Pakistan and share the country's "story of pain and anguish" in front of the international community during his UNGA address on September 23.
Reached NY a few hours ago to tell Pakistan's story to the world, a story of deep anguish & pain arising out of a massive human tragedy caused by floods. In my address at UNGA & bilateral meetings, I will present Pakistan's case on issues that call for world's immediate attention
— Shehbaz Sharif (@CMShehbaz) September 20, 2022
Interaction with Biden
PM Shehbaz will get a chance to interact with US President Joe Biden this week on the sidelines of the UN General Assembly session in New York.
The prime minister is among the world leaders attending the UNGA session who has been invited by President Biden to a reception in New York, a Foreign Office official while requesting anonymity told The Express Tribune.
The official said the prime minister, though will not have any bilateral meeting with Biden, will interact with the US president informally during the reception.
This will be the first interaction between the US president and the Pakistani prime minister. Since being elected as the US president, Biden has not spoken to either former Prime Minister Imran Khan or his successor Shehbaz Sharif.


Source link