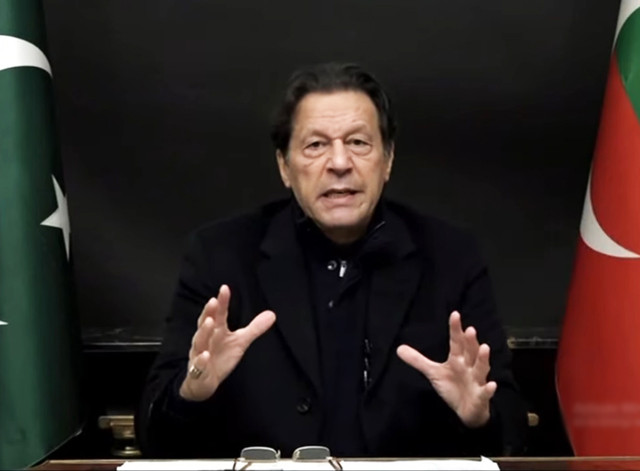 [ad_1]
PTI chief and former premier Imran Khan has said that his party has decided to put Prime Minister Shehbaz Sharif to test through "different plans" which includes confidence vote in parliament.
The PTI chief said this in an interview with a local TV channel on Saturday.
"Certainly, we will fully test him [Shehbaz Sharif]. He tested us here [in Punjab]. Now it's his turn to face the music," he said while responding to a question if his party can ask the premier to obtain confidence vote.
The deposed premier, who was ousted from power in April this year via a vote of no-confidence moved by the then opposition, said decision about the confidence vote date and other plans to put the incumbent government to test will be taken by the party in tomorrow's meeting.
"We will make a full plan. Not only confidence vote but we have other plans as well to test them [PDM government] for a first time," he added.
"We're thinking about vote of confidence for Shehbaz Sharif. There are many plans we have to test him"-@ImranKhanPTI pic.twitter.com/Z5cuIiIcBo
— PTI (@PTIofficial) January 14, 2023
Meanwhile, PTI chief Imran Khan has reportedly given the green-light to obtain confidence vote from Prime Minister Shehbaz Sharif in National Assembly.
According to the party sources, during a meeting with the senior party leadership in Lahore today, Imran Khan approved the proposal to ask PM Shehbaz to seek trust vote from the lower house of the parliament.
In the wake of change in Muttahida Qaumi Movement-Pakistan's (MQM-P) tone over the issue of delimitation of constituencies ahead of local government elections in Sindh, which are scheduled to held on Sunday (tomorrow), the PTI believes it is a right time to deal another blow to the Pakistan Muslim League-Nawaz-led collation government after a remarkable defeat in Punjab.
Party sources revealed that President Dr Arif Alvi, who belongs to PTI, will soon ask Prime Minister Shehbaz Sharif to obtain the vote of confidence from the House.
It is expected that the MQM-P, which has seven seats in the National Assembly, would restrain to vote for Shehbaz.
Speaking to the reporters, Punjab Assembly Speaker Sabtian Khan said if Punjab governor can ask chief minister for vote of confidence why not the president. "It is his [president] discretion to ask prime minister to obtain vote of confidence."
Answering another question, he said he is not sure whether Imran Khan has advised the president to ask prime minister for vote of confidence or not.
He told the media that consultation is underway to constitute a caretaker government in Punjab. The names for interim government will be finalised after dissolution of the provincial government in the province. However, if the agreement is not reached on interim government, the matter will go to the Election Commission of Pakistan (ECP), he pointed out.
He further said after dissolution of the Punjab Assembly, the fate of Khyber Pakhtunkhwa (KP) Assembly will be decided.
PTI Senior Vice President Fawad Chaudhry in a tweet also hinted about trust vote move by saying, "Shehbaz Sharif, be prepared".
Meanwhile, Punjab Chief Minister Chaudhry Parvez Elahi also presided over a high-level meeting in which legal and constitutional aspects were reviewed after giving advice on the dissolution of Punjab Assembly. The name of caretaker chief minister was also reviewed during the meeting.
The chief minister stated that he duly fulfiled the promise which was made to PTI Chairman Imran Khan.
"We welcomed the call of Imran Khan and will continue to support him in future as well."
He underscored that he performed his duties according to the law and Constitution. He apprised that the caretaker set up will be constituted according to the Constitution and with due consultation after the dissolution of Punjab Assembly.
More to follow…

[ad_2]
Source link