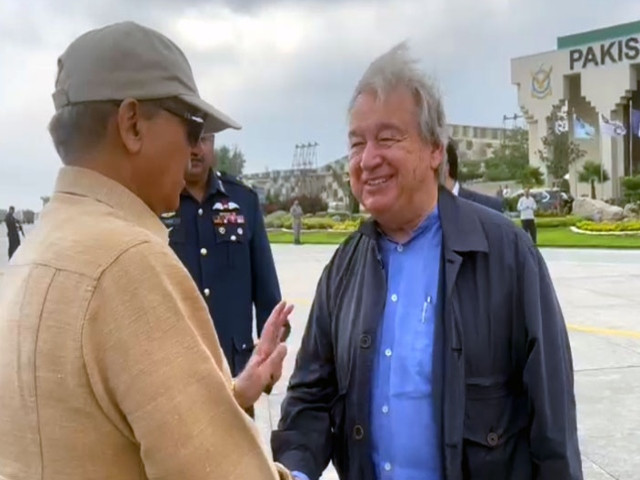 Prime Minister Shehbaz Sharif and United Nations Secretary-General Antonio Guterres will visit Sukkur on Saturday to review the rescue and relief operations underway in the flood-hit district.
During their visit, the premier and the secretary general will visit the flood-affected areas of Sindh and Balochistan and meet the families displaced after the calamity. They will also assess the damages caused by the flooding.
Members of the federal cabinet and the UN delegation will also accompany the two leaders during their visit.
Read: US to operate massive humanitarian air bridge for flood victims
The premier and the UNSG will be given a detailed briefing by the Chief Minister Sindh Murad Ali Shah Shah at Sukkur Airport, after which they will meet flood victims in Tehsil Usta Muhammad of Jaffarabad district, in Balochistan.
They are later scheduled to visit Larkana in Sindh where they will meet people affected by the catastrophe. An aerial survey of the flood-hit regions in Sindh and Balochistan will also be conducted by the UNSG.
Guterres pitches for massive flood aid
Guterres on Friday revealed that the ongoing flooding had cost Pakistan $30 billion, as he visited Pakistan to mobilise help for millions of people affected by devastating monsoon floods.
Nearly 1,400 people have died in flooding that covers a third of the country — an area the size of the United Kingdom — wiping out crops and destroying homes, businesses, roads and bridges.
Guterres said he hoped his visit would galvanise international help, noting Pakistan had always shown generosity towards others, hosting millions of refugees for decades from neighbouring Afghanistan at enormous cost.
Read: UN preparing for worse to come in Pakistan floods
The UN secretary general called the lack of global attention to climate change "insanity".
"This is insanity, this is collective suicide," Guterres told a news conference in the federal capital, lamenting the lack of attention the world gave to climate change — particularly the industrialised nations that scientists blame.
He was speaking with the prime minister at the National Flood Response and Coordination Center where the UN chief was given a comprehensive briefing about the damages and rescue and relief efforts.
Pakistan is responsible for less than one per cent of global greenhouse gas emissions, but is eighth on a list compiled by the NGO Germanwatch of countries most vulnerable to extreme weather caused by climate change.


Source link