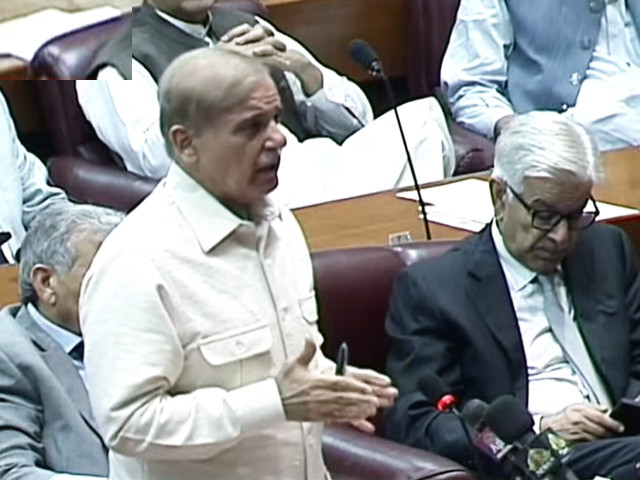 Hitting out at the judiciary for not taking suo motu notices of the many "wrongdoings" of former prime minister Imran Khan's government, Prime Minister Shehbaz Sharif said on Wednesday that justice should be equal for everyone.
"I respect judiciary but one has to speak the truth on the floor of the National Assembly," he said while addressing the lower house of the parliament a day after the devastating blow to his government, as the Supreme Court struck down Punjab Assembly Deputy Speaker Dost Muhammad Mazari's ruling on the election of Punjab chief minister, paving the way for PTI's selected Chaudhry Pervaiz Elahi to ascend to the throne in the country's political heartland.
LIVE #APPNews : Prime Minister Shehbaz Sharif expressing his views National Assembly #Islamabad @NAofPakistan https://t.co/W3CFQoGpE0
— APP 🇵🇰 (@appcsocialmedia) July 27, 2022
Shehbaz in today's speech said that people expect the judiciary to make decisions with justice and the "standard for justice" should be the same for everyone.
Reminding that a former chief justice used to take suo motu on every issue as he wished, Shehbaz said that no one took notice of the many wrongdoings of the PTI government.
Read more: Sanaullah threatens governor's rule in Punjab
"They gave subsidy worth billions of rupees in sugar… they made terrible deals with IMF and then later they did not fulfil their commitments but no one took notice," he lamented.
He questioned why the foreign funding case's verdict is not being announced despite the passage of eight years. "Did anyone take suo motu notice over this," he questioned.
"The ladla (favourite) was provided milk for 15 years and then he was imposed on this nation. The support he got [from institutions] is unprecedented in the country's history… and no one in future is likely to get the same treatment as well."
The premier said that if there is no justice in the country then it cannot move forward and progress. "What I am saying is, if the system works like this then Quaid's soul would remain restless. It will also make the souls of the martyrs of partition restless… did they sacrifice their lives for this," he questioned.
The prime minister said that those who used to taunt us about being the "imported government" when they returned from the United States after meeting the then US president, Donald Trump said that they had brought another World Cup to Pakistan.
Also read: Govt decides to legislate to 'clip powers' of Supreme Court
Shehbaz said that Russia has refused that it had made any offer to export cheap oil to Pakistan. "We got an offer a day before tomorrow from Russia for purchasing of wheat. We have also made a counter offer."
He said that Imran Khan kept calling them dacoits and robbers day and night but could not prove corruption worth a single penny. "I never got money from Israel or India but Imran Khan did," he added.
Shehbaz said that former DG FIA Bashir Memon said on record that he was summoned by Imran Khan to make fake cases against Asif Ali Zardari, Shehbaz Sharif, Maryam Nawaz and others but he refused.
"Who hanged dirty clothes outside parliament? Who attacked parliament? Who burned the electricity bills? But no one took notice. A party leader is saying don't pay taxes and burning copies of bills but no one notices it," he added.
Shehbaz said that the Chinese president was due to arrive in Pakistan in September 2014 and the entire government including the prime minister pleaded to PTI to vacate D-Chowk. "Even some powerful circles got involved… I am witness to it… but they did not budge. Due to these actions, Pakistan suffered… some projects got delayed," he added.
The prime minister said that 220 million people have put faith in the parliament but the Constitution has set limits for each institution. However, he added, unfortunately, the Constitution has been violated many a time in this country.
"Several times martial law was imposed in the country. We have been unable to strengthen parliament as much as we should have," he added.
Lamenting over the "support" PTI enjoys from the institutions, Shehbaz said that the 2018 elections were totally rigged. "Everyone remembers how RTS suddenly stopped working. There was historic rigging in the 2018 elections."
Shehbaz said that they took the challenge to govern the country and take difficult decisions despite the economy being ruined by the former ruling party. "We all unanimously decided to save the state rather than sticking to our politics. We knew Pakistan was close to default. We knew our economy was in ruins. We knew inflation was at its peak. But we did not assume power by 'chor darwaza'."
He revealed that former president General (retd) Pervez Musharraf had offered him the premiership but he refused. "A former president had also done the same in 1992 but I had refused that offer as well," he claimed.
Talking about the relief efforts for rain-affected people, the prime minister said that the federal government will continue to provide assistance.


Source link