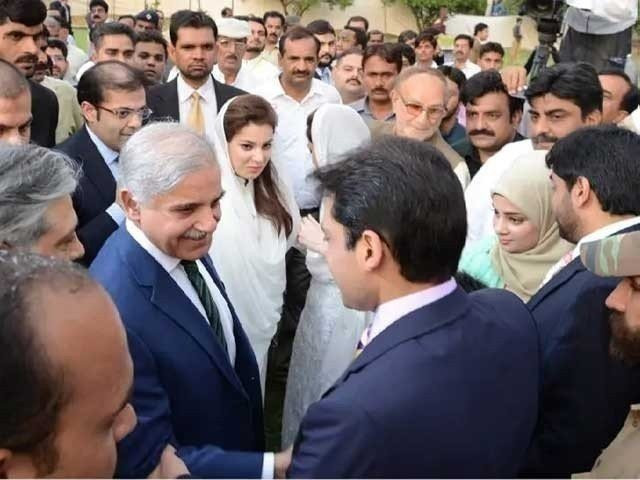 A special court in Lahore on Wednesday acquitted Prime Minister Shehbaz Sharif and his son Hamza Shehbaz in the Rs16 billion money laundering case.
The premier and his son did not appear before the court. Their lawyer, Amjad Pervaiz, filed a request for exemption from appearance as the prime minister was busy with official engagements and Hamza was unwell.
Yesterday, the FIA prosecutor, during a special court hearing, argued in favour of expelling the impression that there was any direct allegation against Prime Minister Shehbaz and his son, former Punjab chief minister Hamza Shehbaz, which could establish their guilt in the Rs16 billion money laundering case.
A special central court judge heard the money laundering case against the aforesaid and other accused persons.
Read Pakistan among top 10 FATF-compliant states
Earlier this month, the FIA had given a clean chit to PM Shehbaz and Hamza Shehbaz, on the charges of money laundering to the tune of Rs16 billion, saying there was no direct evidence against them in the case.
Answering the questions raised by the judge on Tuesday, the FIA prosecutor informed the court that Malik Maqsood – the deceased key figure in the money laundering case – had been operating eight bank accounts and that all the details had been mentioned in the challan submitted before the court.
FIA's prosecutor, Farooq Bajwa, further argued that the record shows that neither the amounts had ever been deposited nor withdrawn from PM Shehbaz Sharif or from his son Hamza's bank accounts.
Hamza's counsel argued that there is no allegation of kickbacks on the accused persons. The FIA had excluded bankers from this case and neither are the bankers' witnesses nor the accused. He added that the investigation was carried out before the political regime changed and the statements were recorded on political bases.


Source link