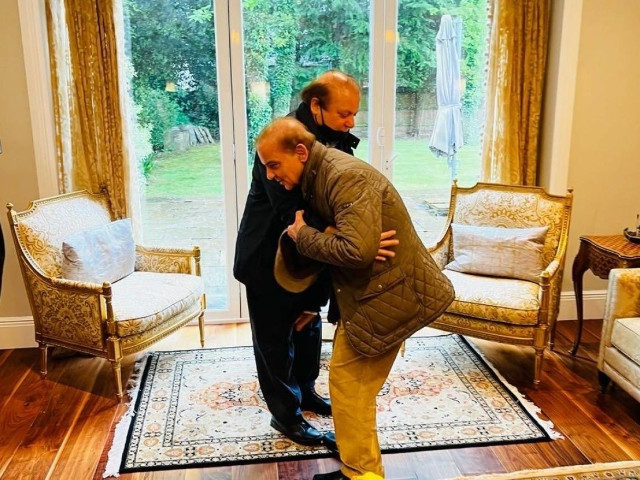 Prime Minister Shehbaz Sharif met former premier and Pakistan Muslim League-Nawaz (PML-N) supremo Nawaz Sharif on Sunday during his visit to London to attend the state funeral of late Queen Elizabeth II.
The premier arrived at the office of his nephew Hussain Nawaz in London to meet his brother, accompanied by former finance minister Ishaq Dar, Defence Minister Khawaja Asif and his son Suleman Shahbaz.
Read PM arrives in London to attend Queen Elizabeth's funeral
The PML-N leaders sat down to discuss the current political and economic situation in Pakistan, along with other issues.
Earlier on Saturday, Federal Energy Minister Khurram Dastagir said that the premier is likely to discuss the appointment of the new chief of army staff as well during his meeting with Nawaz.
Chief of Army Staff (COAS) Gen Qamar Javed Bajwa is set to retire in the last week of November. The matter of the new chief's selection has since caused a stir in political circles with the Pakistan Tehreek-e-Insaf (PTI) and government coming to verbal blows on the matter.
Without mentioning the name of PTI chairman and ousted premier Imran Khan, Dastgir maintained that no matter how many times anyone met with army chief Gen Qamar Javed Bajwa, PM Shehbaz would make the final decision.


Source link