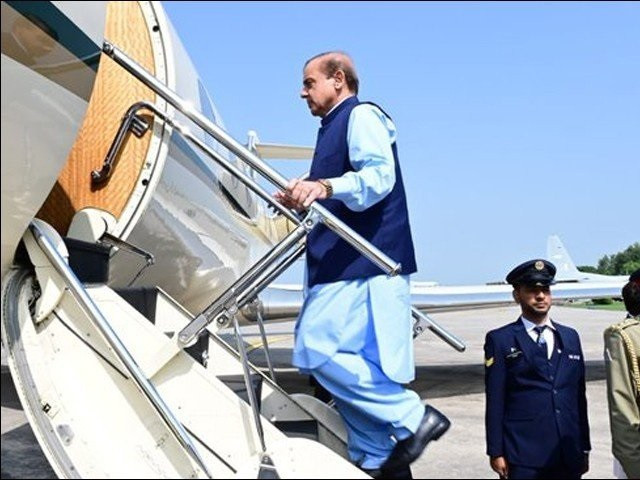 Prime Minister Shehbaz Sharif left for London on Saturday to attend Queen Elizabeth's funeral on the invitation of the British government.
During his stay in London, the premier is also expected to hold an important meeting with his brother, Pakistan Muslim League-Nawaz (PML-N) supremo Nawaz Sharif.
According to Express News, PM Shehbaz will meet his brother Nawaz to discuss the current political and economic situation in Pakistan among other issues.
After attending the funeral of Queen Elizabeth II on September 19, the prime minister will leave for the United States the same day.
Prime Minister Muhammad Shehbaz Sharif departs for UK en route to USA to participate in the High-Level Debate of the 77th Session of UN General Assembly. 20-26 September 2022 pic.twitter.com/asXiEw33ED
— Prime Minister's Office (@PakPMO) September 17, 2022
In the US, PM Shehbaz will be addressing the 77th Session of UN General Assembly (UNGA), scheduled to be held from September 20 to 26 in New York.
He will also hold bilateral meetings with various international leaders.
Read SCO Summit: PM concludes Samarkand trip on 'satisfactory note'
A day earlier, the premier returned from his two-day visit to Uzbekistan, where he attended the Shanghai Cooperation Organisation (SCO) Summit.
At the summit, the prime minister called upon the member states of the SCO to devise Pakistan-specific programmes on climate change, which has induced devastating rains and subsequent floods in the country.
He stressed the dire need for assistance by the international community, including relief and rehabilitation.
The summit meeting adopted a joint statement that called for a "balance" between reducing carbon emissions and allowing poorer states to catch up with economically-developed countries.
The statement "unanimously recognised the negative consequences of climate change and the need for urgent action".


Source link