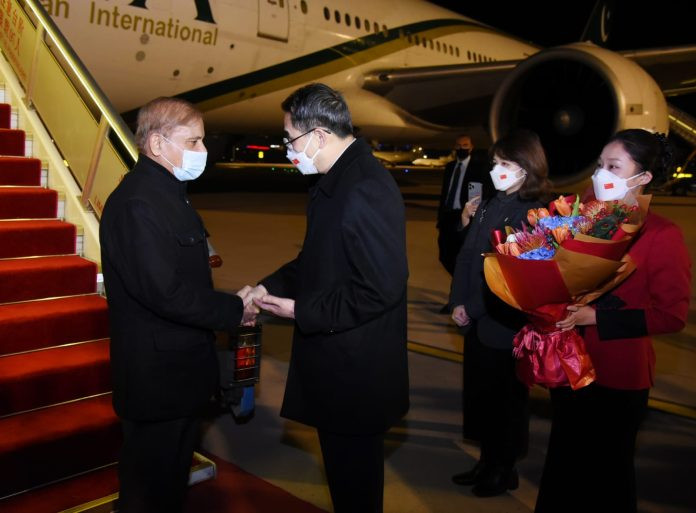 Prime Minister Shehbaz Sharif on Tuesday landed in Beijing on a two-day official visit to meet Chinese leadership and review the "all-weather strategic cooperation partnership" and discuss regional and global developments.
On his arrival at Beijing airport, the senior Chinese officials warmly received the prime minister who was heading a high-level delegation.
pic.twitter.com/0jARx0ypku
— Government of Pakistan (@GovtofPakistan) November 1, 2022
During his maiden official visit to China after assuming office, the prime minister will meet Chinese President Xi Jinping and Premier Li Keqiang.
He is among the first leaders to visit China following the historic 20th National Congress of the Communist Party (CPC) of China that elected Xi Jinping as general secretary of the party.
Prime Minister Shehbaz is also scheduled to meet Chinese investors and Pakistani businessmen.
The visit is expected to advance the wide-ranging bilateral cooperation agenda with the conclusion of a number of MoUs/Agreements in diverse areas, and consolidate the momentum of CPEC cooperation in the wake of the 11th meeting of the CPEC Joint Cooperation Committee (JCC) held on October 27, 2022.
Also read: PM to discuss CPEC in maiden visit to China today
Earlier, Shehbaz appreciated this "honour" as well as the continued friendship and partnership between Pakistan and China during challenging times.
The premier said that his discussions with the Chinese leadership will be centred on the "revitalisation of CPEC" among other important topics.
The second phase of CPEC, tweeted Shehbaz, "promises to usher in a new era of socio-economic progress that will uplift the quality of our people's lives."
He added that Pakistan can learn a lot from the "Chinese economic miracle".
My discussions with Chinese leadership will focus on revitalization of CPEC among many other things. 2nd phase of CPEC promises to usher in a new era of socio-economic progress that will uplift quality of our people's lives. There is a lot to learn from Chinese economic miracle. https://t.co/A6knRLzN6l
— Shehbaz Sharif (@CMShehbaz) November 1, 2022
Earlier, addressing the first steering committee meeting of the Pakistan-China Business and Investment Forum (PCBIF), PM Shehbaz said he looked forward to meeting the Chinese leadership for a series of "productive and fruitful meetings" aimed at boosting business, strategic and people-to-people relations.
He stressed that Pakistan strongly needed to emulate the Chinese model of development for its sustainable progress and prosperity and emphasised the importance of creating favourable environment for building a business-to-business relationship.
"Let's join hands and move forward to create a win-win situation for the Chinese and Pakistani businessmen and investors," he said, calling for streamlining the business procedures in Pakistan to benefit from China.
The prime minister termed CPEC as a "game-changer" and recalled how the flagship programme of the Belt and Road Initiative (BRI) resulted in helping Pakistan overcome its massive power outages.
He stressed the relocation of the labour-intensive Chinese industry to Pakistan in view of the cheap local labour by establishing Special Economic Zones, calling it a win-win scenario for the business houses of both countries.
Read More: PM expects to further deepen relations with China during his visit
He lauded the efforts of Chinese Ambassador Nong Rong for his immense contribution towards strengthening Pakistan-China relations in diverse fields.
Additionally, Shehbaz met Chinese ambassador Nong and discussed diverse matters with him before the China visit, the Prime Minister's Office said in a statement.
The Prime Minister's Office also said that a high-level delegation would accompany the prime minister on the China visit. "During his stay, the prime minister will meet President Xi Jinping and hold delegation-level talks with Premier Li Keqiang," it said.
"The visit is also expected to advance the wide-ranging bilateral cooperation agenda with the conclusion of a number of MoUs/agreements in diverse areas, and consolidate the momentum of CPEC cooperation in the wake of the 11th meeting of the CPEC Joint Cooperation Committee (JCC) on October 27, 2022," the statement added.


Source link