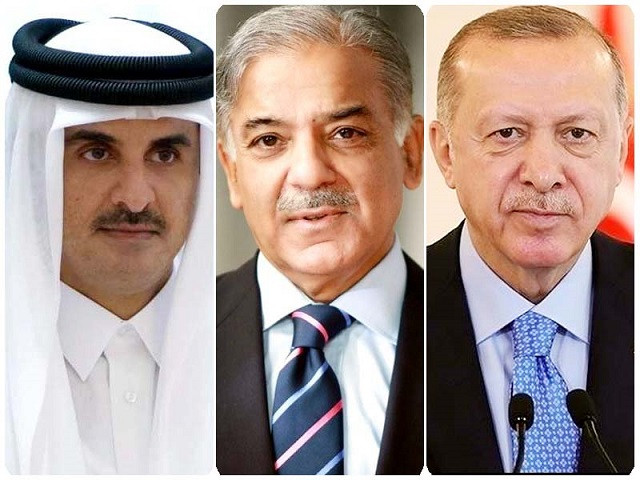 Prime Minister Shehbaz Sharif on Monday held telephonic conversations with world leaders and conveyed greetings to them on the occasion of Eidul Fitr.
During his conversation with the Emir of Qatar Sheikh Tamim Bin Hamad Al Thani, the premier conveyed his wishes to the people of the brotherly country.
Sheikh Thani warmly reciprocated the gesture and extended his wishes to the people of Pakistan.
وزیراعظم شہبازشریف کی امیر قطر کو عید کی مبارک ، قطر کے عوام کے لئے نیک تمناﺅں کا اظہار
وزیراعظم محمد شہبازشریف نے امیر قطر عزت مآب شیخ تمیم بن حمدبن خلیفہ آل ثانی کو ٹیلی فون کیا اور عیدالفطر کے پرمسرت موقع پر مبارک پیش کی۔
— PML(N) (@pmln_org) May 2, 2022
Both the leaders expressed satisfaction over the excellent state of bilateral relations and resolved to carry forward the existing robust political and economic cooperation.
They agreed to maintain close contact and work together on all issues of common interest.
Also read: President, PM call for taking care of needy
The prime minister invited the Qatari ruler to visit Pakistan at an early date. The emir also extended an invitation to PM Shehbaz to visit Qatar.
While talking to King Hamad bin Isa Al Khalifa of the Kingdom of Bahrain, the premier wished continued progress and prosperity to the brotherly people of the country.
He reiterated that Pakistan valued its fraternal ties with Bahrain and expressed his resolve to further strengthen bilateral cooperation in diverse fields.
وزیراعظم شہبازشریف کی بحرین کے شاہ کو عید کی مبارک ، بحرین کے عوام کے لئے نیک تمناﺅں کا اظہار
وزیراعظم محمد شہبازشریف نے بحرین کے بادشاہ عزت مآب حمد بن عیسی آل خلیفہ سے آج ٹیلی فون پر گفتگو کی اور انہیں عیدالفطر کے پُرمسرت موقع پر مبارک پیش کی۔
— PML(N) (@pmln_org) May 2, 2022
Shehbaz also appreciated the steps taken by the country to look after the Pakistani diaspora during the Covid-19 pandemic.
The premier also called Turkey's President Recep Tayyip Erdogan and extended greetings to him on the festive occasion. President Erdogan warmly reciprocated the premier and conveyed his fraternal feelings and affection for the people of Pakistan.


Source link