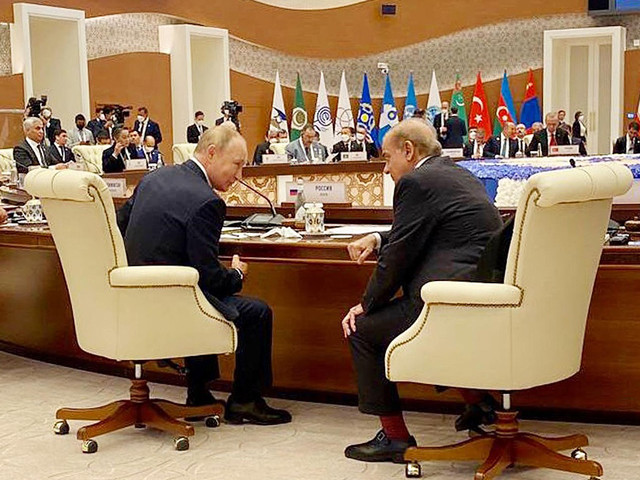 Prime Minister Shehbaz Sharif will travel to Beijing in November while he has also accepted an invitation from Russian President Vladimir Putin for a visit to Moscow in a telling move that contradicts claims that Pakistan may maintain a distance from the United States adversaries following the ouster of former prime minister Imran Khan.
The development comes at a time when there are efforts underway to reset the troubled relationship between Pakistan and the US. A senior adviser of the US Secretary of State recently visited Islamabad while the Biden administration approved a $450 million sale of F-16 equipment in a sign that Washington wants to maintain a working relationship with Islamabad.
In the middle of all this, Shehbaz's meetings with President Xi and President Putin were significant and showed Pakistan was trying to maintain a delicate balance in its ties with big powers.
The transcript released by Putin's office after meeting Shehbaz conveyed Russian eagerness to deepen ties with Pakistan. At the same time Chinese President Xi Jinping, in a maiden meeting with Shehbaz Sharif, termed the Pakistani prime minister as "a person of pragmatism and efficiency".
Read more: PM draws SCO's attention to making Pakistan-specific climate action plans
Shehbaz also heaped praise on Putin, calling Russia a "superpower" and its president a "man of words".
For his part, the Russian president began his meeting with Shehbaz by recalling his working relationship with his elder brother Nawaz Sharif when he was the country's premiere.
Observers believe that Shehbaz's flurry of meetings with Russian and Chinese presidents indicated that Pakistan's policy seeking diversification in its foreign policy options remains intact.
While Pakistan has a long-standing relationship with China, the process of rapprochement with Russia began way before Imran became the prime minister.
It was a consensus decision by the country's parliament and other stakeholders in 2011 to reach out to Russia after Islamabad's relationship hit the lowest ebb because of a series of debacles.
Since then successive governments including PPP and PML-N had pursued the policy of normalising ties with Russia. In 2015, the two sides signed an agreement under which Russia would lay a gas pipeline from Karachi to Punjab to supply LNG.
The project could not take off because of possible US sanctions but both sides did not give up and are still making efforts to turn the project into reality.
On Thursday, Putin and Shehbaz brought up the Pakistan Steam Gas Pipeline project in their discussions.
"There are things we need to work on, and we see good prospects in several spheres, such as railway transportation and energy. There are very interesting and large-scale projects, namely the Pakistan Stream Gas Pipeline project, which involves building the infrastructure needed for the delivery of LNG," Putin told Shehbaz.
The Russian president also offered Pakistan to supply gas through a pipeline. "This is possible as well, in view of the fact that some infrastructure is already in place in Russia, Kazakhstan and Uzbekistan," he said.
Shehbaz noted that Pakistan stands to gain from this mutual cooperation, mutual understanding, promoting trade, investment, and other areas like gas pipelines.
"We had signed a protocol in 2016–2017 that needed to be implemented. Unfortunately, for some reason, it could not be, but I know the potential your great country has, from which Pakistan must benefit in our own interest," he said.
Also read: Putin offers Shehbaz gas to warm ties
The prime minister told Putin that he had come here with his delegation with the proposal on the matter.
Putin termed Pakistan as a "priority partner in Southeast Asia and Asia as a whole".
"Relations between our countries are developing absolutely positively, and we are pleased about that," he said.
Defence Minister Khawaja Asif, who attended the Putin-Shehbaz meeting, said in a tweet that the premier's meetings with Putin and Xi were extremely successful.
He said that both leaders invited Shehbaz on a visit to their respective countries. He confirmed that the prime minister would embark on his maiden visit to China in November while he did not confirm the date of his visit to Moscow.
Meanwhile, PM Shehbaz held a bilateral meeting with Chinese President Xi Jinping on the sidelines of the 22nd SCO Council of Heads of State moot in Samarkand.
The PM's maiden meeting with the Chinese president since assuming office in April remained a traditionally warm affair marked by mutual trust and understanding, said a statement from the PMO.
In his welcoming remarks, the Chinese president described PM Shehbaz as "a person of pragmatism and efficiency". He also added that the PM was a leader with "a longstanding commitment to China-Pakistan friendship".
The two leaders reviewed the gamut of bilateral relations and exchanged views on important regional and international issues of mutual interest.
PM Shehbaz expressed his gratitude towards China for extending support to the country as it battles devastation from catastrophic floods, adding that "the outpouring of sympathy and support from all quarters across China was touching and a true reflection of our unique friendship".
He also condoled President Xi over the tragic loss of life and devastation caused by the earthquake in Sichuan Province on September 5, 2022, emphasising that Pakistan stood with China in the face of the natural calamity.
The premier briefed President Xi on his government's policies for Pakistan's sustained growth, industrial development, agricultural modernisation, and regional connectivity, making special mention of the "transformational impact" of the China-Pakistan Economic Corridor on Pakistan's socio-economic development.
Both leaders also welcomed the signing of a protocol to the framework agreement on ML-1 Railway project, added the statement.
PM Shehbaz also lauded President Xi's Belt and Road Initiative (BRI) and Global Development Initiative (GDI), which he said called for "collective action for sustainable development and win-win outcomes".
Noting the enduring nature of China-Pakistan bilateral ties, the premier reaffirmed his personal resolve to take their bilateral relations to greater heights.
Underscoring the significance of the forum provided by the SCO members to further their shared vision and mutual values into concrete plans for regional cooperation and integration, the premier reiterated Pakistan's consistent and unwavering support to China on all issues of its core interest including Taiwan, Tibet, Xinjiang and Hong Kong.
He also extended his gratitude to China for its support to the country on matters including sovereignty and territorial integrity, FATF, national development, Covid-19 pandemic among others.
The two leaders also exchanged views on international relations, climate change, health pandemics and growing inequalities. PM Shehbaz also took the opportunity to highlight the human rights abuses taking place in the Indian Illegally Occupied Jammu and Kashmir and thanked China for its "principled stand" on the disputed territory.


Source link