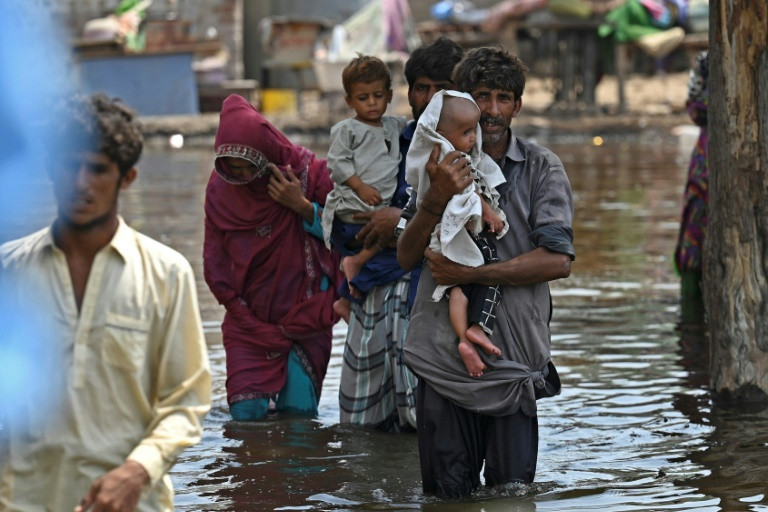 The recent devastating floods up and down the country killed at least 1,412 people and 141,771 head of cattle, besides damaging 5.321 million homes, the National Disaster Management Authority (NDMA) said on Thursday.
Briefing the Senate Standing Committee on Climate Change, NDMA officials said that so far, Rs3.3 billion had been collected through the Prime Minister's Relief Fund. They added that the authority was in process to procure an early warning system for accurate floods data.
The meeting, chaired by Seemi Ezdi, discussed the steps taken by the Glacial Lakes Outburst Flood (Glof) project to reduce risks of floods and prevent loss of lives. When asked about the foreign aid, the NDMA Officials said that this matter related to the Economic Affairs Division.
However, senior UN officials in Pakistan said a day earlier that the Secretary-General Antonio Guterres' flash appeal for $160 million after the Pakistan floods received an encouraging response with pledges of $150 million, while $38.35 million had been received.
Addressing a joint press conference in the federal capital, along with representatives of the World Food Programme (WFP) and the World Health Organisation (WHO), UN Resident Coordinator in Pakistan Julien Harneis said that the aid must reach the flood victims.
Harneis welcomed Prime Minister Shehbaz Sharif's announcement of an audit of the flood assistance by an international accounting company. "The UN appeal is very important to cover the basic needs of the victims and there is considerable success in raising funds," he said.
However, Harneis and other UN officials said that the amount of $160 million was too little given the enormity of the flood situation. He said that the flash appeal was only for 6 months to save human lives, adding that $160 million was a low amount, which would be revised.
The UN officials highlighted the issues of health, malnutrition, and the food needs of pregnant women as a cause of concern. They pointed out that 33 million people were affected by floods and among them 6 million were severely affected.
"The focus for the United Nations is on these 6 million people, who are the worst-affected by the floods," Harneis said, adding: The financial assistance under the Benazir Income Support Programme (BISP) is important."
The WFP representative said that they were facing difficulties in reaching many places due to flooded roads. She emphasised that the nursing mothers should breastfeed their children because the powdered milk could be dangerous in this situation.
She also said that food security in Pakistan was already precarious due to inflation. "Before the floods, 5.69 million people were already severely malnourished. After the floods, the malnourished population has increased manifold," she added.
"Efforts are being made to provide all possible help to 500,000 children and nursing mothers. This is in addition to the assistance being provided to 2 million children and women. We are building special centres for pregnant women."
The WHO representative said that the floods had destroyed medical centres, health facilities and medicines, which meant that medicines were now almost non-existent for the flood victims. We don't have enough resources and money, but this is just the beginning."
About rehabilitation of the flood victims, Harneis said that the Asian Development Bank and the World Bank were working on the reconstruction projects. He said that winter was about to begin in flood-affected areas and "in such a situation, new cultivation is not possible".


Source link