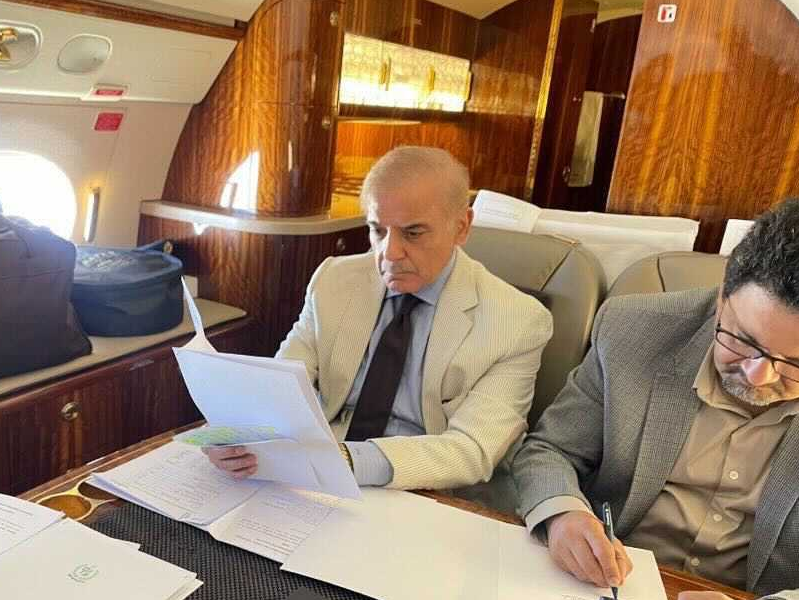 Prime Minister Shehbaz Sharif said on Tuesday that he was looking forward to meet with the 'high-powered' economic team of the United Arab Emirates (UAE) today, to discuss the implementation of decisions made by the leadership of both countries.
The premier stated that the visit was a "follow-up" to his meeting with UAE Crown Prince Mohammad bin Zayed wherein the two leaders had "resolved to comprehensively upgrade bilateral economic, trade and investment cooperation".
I look forward to engaging with high-powered economic team of the UAE today. This visit is a follow-up to my meeting with HH Crown Prince Mohammed bin Zayed in which we had resolved to comprehensively upgrade bilateral economic, trade & investment cooperation.
— Shehbaz Sharif (@CMShehbaz) May 3, 2022
The UAE economic experts are to meet PM Shehbaz in Lahore today. In addition, the delegation would also interact with the government's economic team and deliberate on the ways to accelerate the economic activities between the two countries.
Read UAE rolls over $2 billion Pakistan debt
Upon the arrival of the UAE economic team, the prime minister will host a dinner reception for the delegation which would also discuss the promotion of economic and trade relations as well as investment.
The premier met the crown prince in Abu Dhabi during his brief stay in the state after concluding his three-day visit to Saudi Arabia.
The two sides had reviewed a number of regional and international issues of common concern, according to the Emirates News Agency.
The two leaders had also discussed issues of regional and international importance. They decided to remain in regular contact on all issues of mutual interest as well as coordinate positions at multilateral forums including the UN and the OIC.


Source link