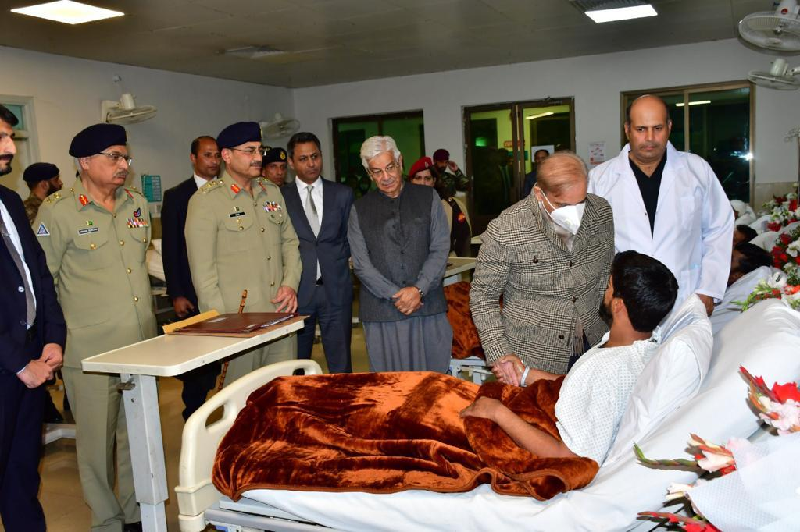 [ad_1]
Prime Minister Shehbaz Sharif visited the Combined Military Hospital (CMH) in Rawalpindi on Thursday to inquire after the health of the officers and soldiers who were injured in a recent operation against militants at CTD complex in Bannu.
The Inter-Service Public Relations (ISPR) in a statement said the premier paid tribute to the courage and valour of troops who cleared the Bannu Counter Terrorism Department (CTD) complex.
PM Shehbaz said that the martyrs and their families have rendered supreme sacrifices for ensuring safety and security of the people of Pakistan, the statement added.
"We are determined to fight out terrorism in its all forms and manifestations and breaking nexus between terrorists, their supporters and sympathisers till achieving peaceful and stable environment," the ISPR quoted the premier as saying.
"Writ of the state will be established at all cost and no one will be allowed to derail the hard-earned gains of war on terror achieved through unparalleled sacrifices of the nation and valiant armed forces," it added
Also read: COAS spends time with soldiers injured in Bannu operation
The security forces on Wednesday regained full control of the Counter Terrorism Department (CTD) compound in Bannu, rescuing all the hostages in the facility as well as killing and capturing the terrorists holding them, officials in the town said.
The Special Service Group (SSG) of the army launched an operation against the militants on Tuesday after talks for their peaceful surrender and ending the siege failed.
The operation continued overnight and on Wednesday, the security forces cleared the centre of all the terrorists.
During the two-day clearance operation, three troops were martyred, while 27 officers and soldiers sustained injuries.
Officials said that most of the terrorists were killed, while 11 either surrendered or were captured by the troops and shifted to a secure location.

[ad_2]
Source link