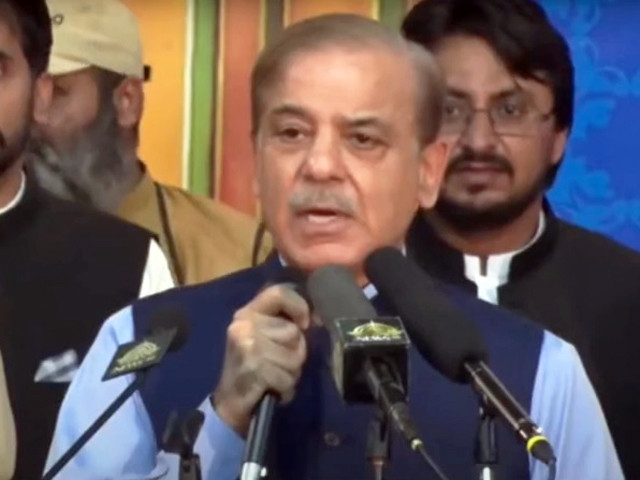 Prime Minister Shehbaz Sharif formed a federal level committee on Saturday to hold talks with Pakistan Tehreek-e-Insaf's (PTI) ongoing Haqeeqi Azadi March.
Headed by Interior Minister Rana Sanaullah, the committee, comprising nine members, will focus on maintaining the law and order situation while also holding a political discourse regarding the PTI march.
The premier directed that all talks regarding the long march will be done through the committee.
Read 'Imran called protesters to D-Chowk on May 25'
"Our doors are always open for negotiations. We are democratic people, ready to talk. However, we will not allow anyone to take the law into their hands," said PM Shehbaz.
The committee includes Pakistan Muslim League-Nawaz (PML-N) leaders Ayaz Sadiq, Khawaja Saad Rafiq, Marriyun Aurangzeb, Pakistan Peoples Party leader Qamar Zaman Kaira, Muttahida Qaumi Movement's Khalid Maqbool Siddiqui, Awami National Party's Mian Iftikhar and Jamiat Ulema-e-Islam-Fazl leader Maulana Asad Mehmood.
'Govt not serious about negotiations'
However, PTI leader Fawad Chaudhry said the government was not serious about negotiations. He claimed that the Imran Khan-led march was still facing government-imposed restrictions.
"On the one hand, PTI workers are being arrested and the Haqeeqi Azadi March's coverage is being restricted and, on the other hand, there is news of the formation of a frivolous committee," he said.
"These are tricks to only engage the Azadi March, and they won't work," Fawad added, demanding a date for the general election.
حکومت کی مذاکرات کی دعوت کی خبریں غیر سنجیدہ ہیں،ایک طرف تحریک انصاف کے کارکنوں کو گرفتار کیا جا رہا ہے، #حقیقی_آزادی_مارچ کی کوریج پر پابندیاں ہیں دوسری طرف ایک غیر سنجیدہ کمیٹی کی تشکیل کی خبریں صرف آزادی مارچ کو انگیج کرنے کیلئے ہیں،یہ چالاکیاں نہیں چلنی انتخاب کی تاریخ دیں
— Ch Fawad Hussain (@fawadchaudhry) October 29, 2022
PTI kicks-off march
The PTI's long march had set off from Lahore's Liberty Chowk a day earlier. Addressing party supporters on arrival, the PTI chairman said that the only objective and demand of the long march was free and fair elections in the country, which would guarantee true independence in Pakistan.
Read more PTI's long march puts MBS visit in doubt
"The time has come for us to start the journey of real freedom of this country," Imran said, stressing that he was embarking upon the most important journey of his political career spanning over 26 years.
"My march is not for politics, not for elections or personal interests, but only for the purpose that the nation should be truly free, the former prime minister said from atop his container.
"Our decisions should not be taken in Washington or in Britain, rather Pakistan's decisions must be taken in Pakistan and for the [benefit of the] people of Pakistan," he said.


Source link