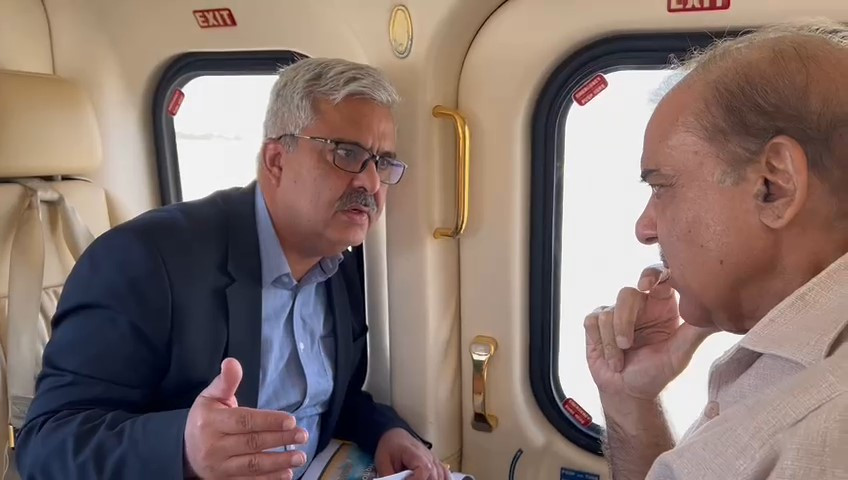 Prime Minister Shehbaz Sharif arrived in Quetta on Sunday to review relief activities in the flood-hit areas of Balochistan.
The premier will visit the Kichi area of the province to review rehabilitation work on the flood-affected road and railway infrastructure.
وزیر اعظم پاکستان محمد شہباز شریف ایک روزہ دورہ پر کوئٹہ پہنچ گئے۔
وزیر اعظم پاکستان محمد شہباز شریف بلوچستان کے بارشوں اور سیلاب سے متاثرہ ضلع کچھی جائیں گے۔#APPNews @CMShehbaz @dpr_gob pic.twitter.com/ptIf9EMJrN
— APP 🇵🇰 (@appcsocialmedia) September 4, 2022
PM Shehbaz was given a detailed briefing by Chairman National Highway Authority (NHA) Khurram Agha on the flood-affected roads in Balochistan and the ongoing rehabilitation work on his way to the link bridges in Bibi Nani and Pinjra bridge.
It is pertinent to note that the Pinjra bridge was completely swept away by the floods.
چیئرمین NHA خرم آغا وزیرِ اعظم شہباز شریف کو بی بی نانی میں رابطہ پُلوں اور پنجرہ پُل کی طرف جاتے ہوئے دورانِ پرواز بلوچستان میں سیلاب سے متاثرہ سڑکوں اور جاری بحالی کے کام پر تفصیلی طور پر بریفنگ دے رہے ہیں.#APPNews @CMShehbaz @PakPMO pic.twitter.com/yMH4Aw63FC
— APP 🇵🇰 (@appcsocialmedia) September 4, 2022
During his earlier visit to the province, the PM had announced a grant of Rs10 billion for Balochistan flood victims.
He had also appealed to the well-off people to rise to the occasion and participate in the relief efforts.
Read: PM Shehbaz visits flood-hit K-P areas, Mohmand Dam
Balochistan has badly suffered from the eight monsoon spells, overwhelming in magnitude and severity. It swept away the kith and kin of the survivors, their cattle, houses and crops.
Director General Provincial Disaster Management Authority Saleh Nasar said that non-stop heavy downpours, uncontrolled waves of water and gushing hill torrents had so far claimed around 250 lives with thousands injured and displaced.
The catastrophe left some 61,718 houses damaged, 145,936 livestock dead and about 190 thousand acres of agricultural land badly affected.
The province is almost cut off from Punjab, Khyber-Pakhtunkhwa and Sindh due to the collapse of bridges on Quetta-Zhob-Dana Sar-Dera Ismail Khan Road, Quetta-Loralai-Dera Ghazi Khan, Quetta-Khuzdar-Karachi, and Quetta-Sibi-Jacaboad Roads.


Source link