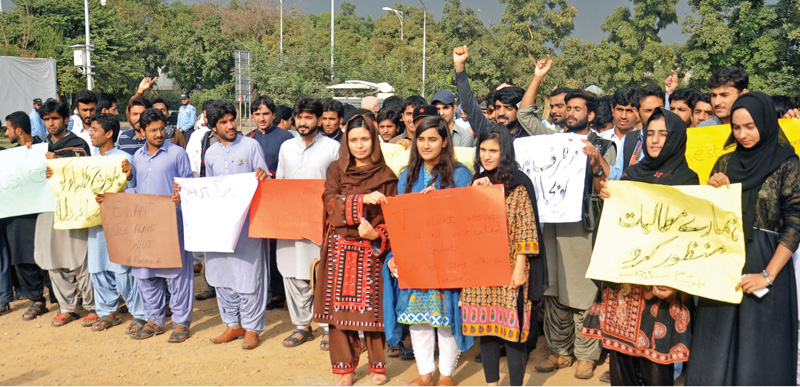 The Islamabad High Court (IHC) on Friday instructed the Ministry of Human Rights to place the complaints of Baloch students before the commission and prepare the report till next date (June 10).
Chief Justice Athar Minallah heard the cases pertaining to the alleged harassment of Baloch students at the Quaid-e-Azam University.
The court asked the Ministry of Human Rights and the Ministry of Interior to submit a report till the next date of hearing after viewing the complaints.
The court also directed the interior ministry secretary to conduct a separate inquiry to determine the whereabouts of Feroz Baloch and file the report.
Chief Justice Minallah said that the court would issue summons to the interior secretary to appear in person if the report was not satisfactory.
Earlier during the hearing, Deputy Attorney General Tayyab Shah said the notification had been issued regarding the formation of the commission.
Read President Alvi directs HEC to take steps against racial profiling of Baloch students
The chief justice said the commission was supposed to listen to the grievances of all stakeholders and take steps to address them.
The DAG apprised the court that a missing student of National University of Modern Languages had already returned. The court adjourned further hearing of the case till June 10.
Earlier in April, the IHC directed authorities to form a commission to investigate the racial profiling and disappearances of Baloch students in the country while hearing the case filed by students of the Quaid-e-Azam University in Islamabad.
Chief Justice Minallah said that the courts could not turn a blind eye to the human rights violations in Pakistan.
He ordered that a commission be formed to probe the harassment and disappearances of Baloch students. The chief justice also asked for suggestions on who could head the commission, for which lawyer Hina Jilani and politician Afrasiab Khattak's names were proposed, among others.
During the proceedings, the lawyer of the students, Imaan Mazari, apprised the court that the Baloch students had met the president twice and both times the president had assured the students to look into their issues.
Still, Mazari said that a Baloch student was picked up from Karachi recently and one from Lahore.
"Seems like the government is not taking the concerns of the students seriously," the lawyer told the court.
She suggested that the Higher Education Commission (HEC) should send notices to all universities in Pakistan instructing them to stop the harassment of Baloch students.
Justice Minallah noted that this was a real issue in the country, but governments and political leaders ignored it. He then asked who was responsible for this, to which Mazari replied that the responsibility lies with the chief executive and the relevant agencies.
The chief justice directed the interior secretary to visit the Baloch students and set up a mechanism to deal with their complaints.
(With input from APP)