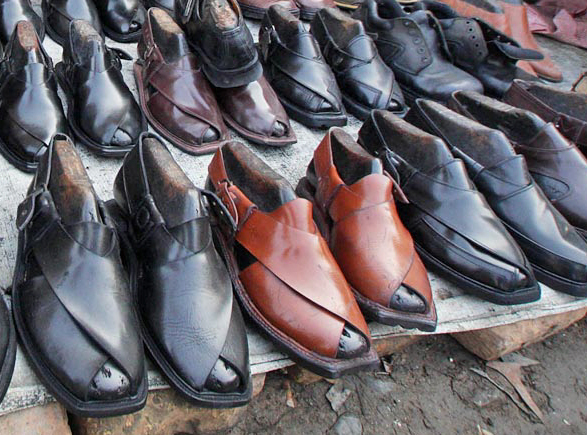 With over a week left for Eidul Fitr, the majority of customers on Sunday thronged Peshawari chappal outlets, showing a strong preference for the traditional wear during the celebration.
Following a significant decrease in Covid-19 cases in Khyber-Pakhtunkhwa, Peshawari chappal outlets in cities and cantonment bazaars are attracting a large number of shoppers as the holy month of fasting nears its conclusion.
Known as the city of artisans, Peshawar's Jahangirpura Bazaar near the historic Qissakhwani Bazaar has been the hub of skilled cobblers where shoemakers are burning the midnight oil to meet the growing demands.
Many consumers, belonging to other districts, have trekked long distances to buy decent, shiny and unique designs for themselves and their family members.
Besides its cultural relevance, one contributing factor to the increased preference for durable readymade chappals is the skyrocketing costs of foreign footwear, which the salaried, middle class and low-income groups can barely afford.
"Like other businesses, the Peshawari chappal business was also hit hard by Covid-19 lockdown," Muhammad Khan, a local shoemaker who remained associated with this hard business for the past 22 years in Jhangirpura, said. He added that shoemakers suffered great financial losses due to the coronavirus pandemic.
READ Eid shopping at peak despite inflation
He said shoemakers associated with this hard-earned business returned back to their business after the pandemic situation got better. "Currently, we cannot accept more orders due to shortage of time, power load-shedding and fasting," he said.
Muhammad felt proud of adhering to these skills from his forefathers, who were associated with this profession for decades with expertise, skill and craftsmanship.
The unique footwear is exported to South Africa, the United Kingdom, Saudi Arabia, the UAE, Europe, Afghanistan and Russia besides is liked in Sindh, Balochistan, Azad Kashmir, Punjab and Gilgit-Baltistan.
He said later finishing touches are given to a piece in the sixth stage, which includes polishing and varnishing to improve its look while artisans also paint its border with a selected chemical for a better shine.
Muhammad urged the provincial government to announce a special financial package for shoemakers and lockdown-affected labourers. He said the centuries-old Peshawar chappal business would grow only if the government provided interest-free loans to Covid-19 affected labourers.
"Peshawari chappal is my favourite and my Eid seems incomplete without it," Zeeshan Khan, a government employee and resident of Nowshera, said while selecting footwear for himself and family members at Jhangirpura.
"I purchased five sets of handmade designs of Peshawari chappal for Rs4,500 each this year as against Rs4,000 last year for myself, brothers, and orphans. Despite the little increase in prices at local markets, it's still within the reach of a common man," he said.
"We should not forget our Covid-19 affected brothers and sisters on this Eid," he said, adding purchasing shoes and clothes for poor people would double our joy on Eid. He urged the government to regulate this business and fix rates for Peshawari chappal to facilitate the customers.
"Peshawar chappal is my first choice for Eid as it gives a traditional touch with shalwar qameez and can also be worn with pants and jeans, as is the trend now," Janisar Khan, a resident of Nowshera, said.
"After a significant reduction in coronavirus cases, I visited Peshawar to buy readymade Peshawari chappal for myself and my brothers who are living abroad as they have especially asked for it this Eid," Janisar said.
"I purchased plain black and green designs of this famous chappal as demanded by my brothers," he said, adding that its other designs both for girls and boys with different prints embellished with stones are giving a different look and individual style attracting an influx of buyers on Eid.


Source link