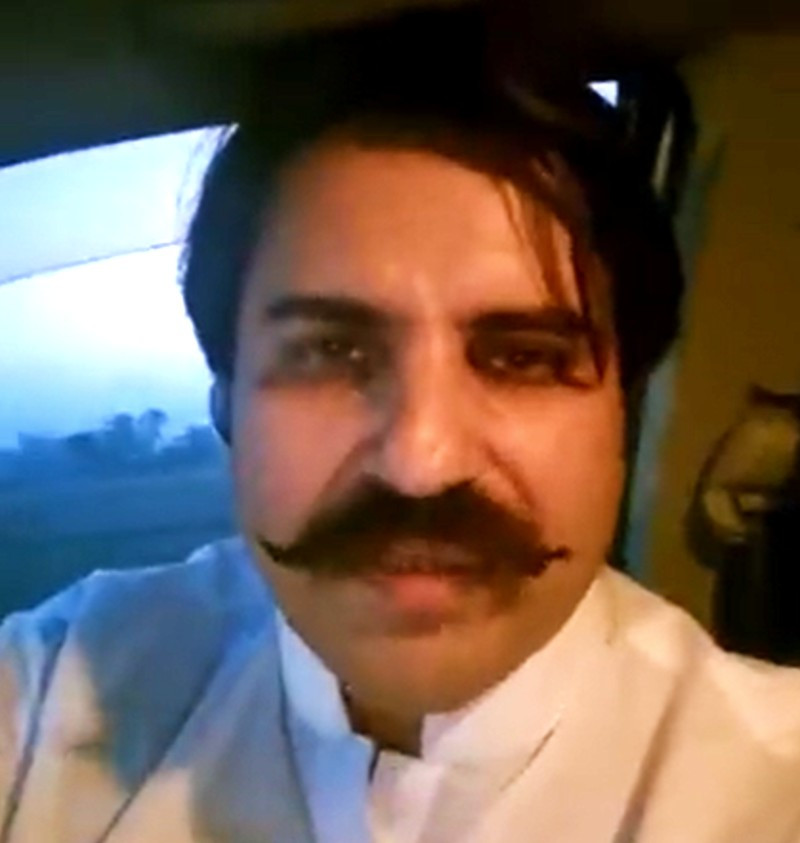 Pakistan Tehreek-e-Insaf (PTI) leader Alamgir Khan has said that his personal security guard was mistakenly caught by the public and taken into custody by the police as a suspect after former prime minister Imran Khan was shot on day 7 of the party's 'Haqeeqi Long March' in Gujranwala.
"Due to the situation, the security guard was also with me. His name is Mohammad Poonal Khan," he said in a short video statement.
رانا ثناءاللہ جھوٹ نہ پھیلائے @AKFixit pic.twitter.com/wuZHb3NbO5
— PTI (@PTIofficial) November 3, 2022
Alamgir said that the people at the crime scene mistakenly caught his security guard and police also took him into custody. "Now, I am getting reports that he is also being named in the incident. This is absolutely wrong. He is a private security guard and he came along with me."
🚨I wanted to kill Imran Khan only, attacker told Media. pic.twitter.com/1EaE1o7q6h
— Ihtisham Ul Haq (@iihtishamm) November 3, 2022
He warned Interior Minister Rana Sanaullah and others not to try to frame an innocent person.
Footage of the firing. pic.twitter.com/iXgXwDP9EX
— Ihtisham Ul Haq (@iihtishamm) November 3, 2022
Earlier, it was reported that Alamgir's guard was the one who had attacked Imran.
Initial unverified reports say the shooter Naveed Arain is the resident of Sodhra, district Wazir Abad. He has been arrested with a 9mm short gun with 2 empty magazines and is a personal body guard of PTI MNA Alamgir Khan.
— Murtaza Solangi (@murtazasolangi) November 3, 2022
BREAKING NEWS.
Initial report of firing on Imran Khan.
Shooter Name is M Naveed s/o M Bashir Caste Arain Resident Sodhra .District Wazir Abad
Arrested with 9mm and 2 empty mags.He is guard of MNA Alamgir Khan .
— waqar satti 🇵🇰 (@waqarsatti) November 3, 2022
Punjab police under PTI testifying confessional statement of the accused and the reports that hitman is security guard of a PTI MNA must send @ImranKhanPTI in a tail spin. He will have to pull out a rabbit from his hat to keep going. Lesson: best laid out plans can go awry
— Farhatullah Babar (@FarhatullahB) November 3, 2022
According to media reports, the gunman has been arrested and Imran is out of danger.
The suspect, in a video statement to Punjab Police, has confessed that he shot the PTI chief as he was "misleading" the nation. "I could see him misleading the nation. I only wanted to target Imran Khan and no one else," he said.
Read more: Army condemns assassination attempt on Imran Khan
The suspect also revealed that he had intended to do so ever since the deposed premier left Lahore and started his long march. "No one is behind me and I did this [the attack] on my own," he added.
The PTI chief has been hospitalised after he reportedly received multiple gunshot wounds in the leg. Chaotic scenes were seen as security personnel rushed to secure the premises after the incident occurred.
Many including Prime Minister Shehbaz Sharif condemned the incident. He said that the federal government will extend all support necessary to the Punjab government for security and investigation.
"Violence should have no place in our country's politics," Shehbaz further said.
The Pakistan Army has also condemned the incident. "Firing incident during Long March near Gujranwala is highly condemnable," the Inter-Services Public Relations (ISPR) said in a statement.
"Sincere prayers for precious life lost and speedy recovery and well-being of Chairman PTI Mr Imran Khan and all those injured in this unfortunate incident."


Source link