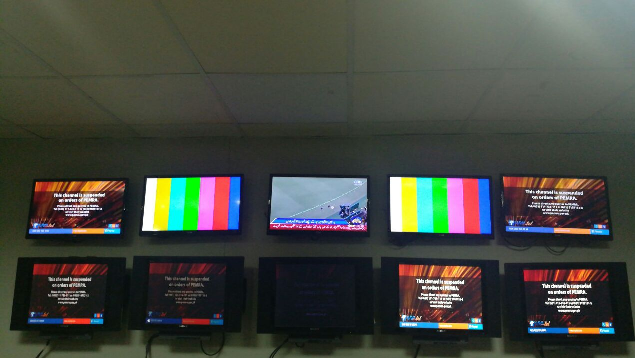 The Pakistan Electronic Media Regulatory Authority (PEMRA) on Monday warned private electronic media against airing content against the country's armed forces and judiciary.
"It has been observed that a few satellite TV channels are airing content which tantamounts to casting aspersions against state institutions i.e. armed forces and judiciary," the regulatory authority said in its directives posted on its Twitter handle.
"Airing such content violated Pemra rules, provisions of the Pemra Electronic Media (Programmes and Advertisement) Code of Conduct 2015 and the principles laid down by the superior courts," it added.
Read more: IHC stays collection of over Rs50b in ad revenue by PEMRA
The statement said that the freedom of speech and expression were fundamental rights, they were subject to "reasonable restrictions" imposed by the law in the interest of Islam, the integrity, security or defence of Pakistan, friendly relations with foreign states, public order, decency or morality, or in relation to the contempt of court or incitement to an offence.
In compliance with the relevant Pemra laws and regulations, any entity that is granted a licence by the authority should comply with its codes of programmes and advertisements and appoint an in-house monitoring committee to ensure compliance, it added.
"Moreover, all satellite TV channels are further directed to ensure that an effective time-delay mechanism be put in place and an impartial and independent editorial board be constituted … in order to ensure that their platform is not used by anyone for uttering contemptuous remarks in any manner whatsoever against any state institutions," the media watchdog said.
It warned that legal action under the relevant laws would be pursued in case of any "violation".
Also read: Govt to 'amend' PEMRA laws to curb fake news
Earlier in the day, while responding to a question during question hour in the National Assembly, Minister for Information and Broadcasting Marriyum Aurangzeb said that Pemra has established an effective mechanism to check the code of conduct on TV and Radio broadcasts.
She said that all Pemra licencees are obliged to comply with the Pemra laws in letter and spirit. She said a council of complaints has been established at each provincial headquarters to resolve the grievances of the public about any aspect of content being aired on private electronic media.
The info minister also said surprise visits are also conducted by Pemra field teams to ascertain violations committed by cable TV operators across the country.
She said that Pemra has also issued guidelines for dramas, morning shows and Ramazan transmission.


Source link