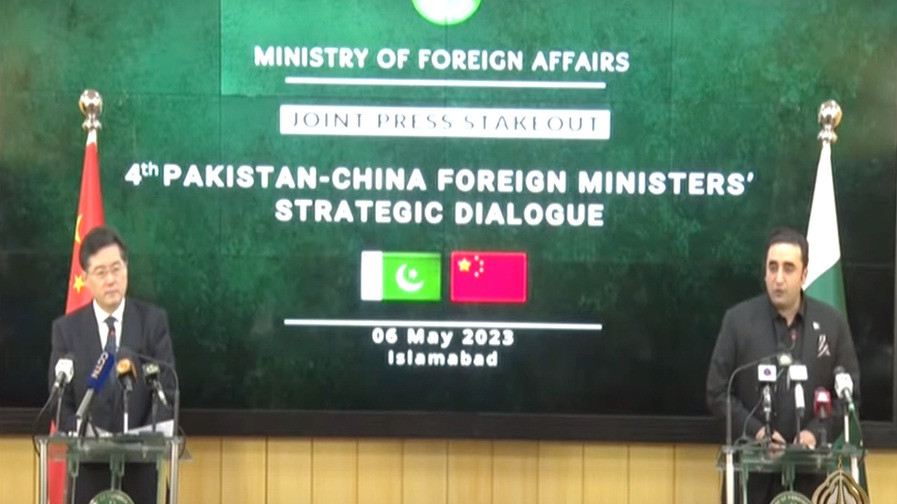 Foreign Minister Bilawal Bhutto Zardari emphasised on Saturday the importance of 'peace and stability in Afghanistan' for the region's 'socioeconomic development and prosperity' and vowed to work together with all stakeholders for a peaceful Afghanistan.
The minister was addressing a joint presser with Chinese Foreign Minister Qin Gang following the 4th Pakistan-China Foreign Ministers' Strategic Dialogue.
🇵🇰🤝🇨🇳 #Live: Foreign Minister @BBhuttoZardari and Chinese Foreign Minister @AmbQinGang addressing a joint press stakeout on the occasion of 4th Pakistan-China Foreign Ministers' Strategic Dialogue@ForeignOfficePk #PakChinaFriendship https://t.co/VMvuaP5KB1
— Radio Pakistan (@RadioPakistan) May 6, 2023
FM Bilawal stated that during the dialogue today, Pakistan and China noted "that peace and stability in Afghanistan remain vital for socio-economic development, connectivity and prosperity in the region and that they "will continue to work together with all stakeholders for a peaceful, stable, prosperous and united Afghanistan".
He further stated that Pakistan and China support each other on "issues of core national interests" in both bilateral engagement with other countries and at multilateral forums.
He expressed great appreciation for China's "steadfast support" on all of Pakistan's issues of core national interests "including its principled position on the Jammu and Kashmir dispute".
The minister stated that Pakistan would "continue to firmly support China on all core issues of its national interests" including Taiwan, Xinjiang, Hong Kong, Tibet and the South China Sea. He added that the two nations stood with each other for decades and will continue to stand with each other for decades to come.
"High-level exchanges and bilateral consultative mechanisms are essential for maintaining the momentum of the long cherished relationship," FM Bilawal said.
Read FM urges SCO unity to confront plethora of challenges
Bilawal said that he was "delighted to see the 4th Strategic Dialogue convened shortly after the bilateral political consultations that took place in March 2023 in Beijing". He continued that Pakistan and China celebrate 72 years of friendship, and the partnership "between the two countries has grown over the years and enjoys consensus across generations and political divide".
"In talks today, we have had an in-depth exchange of views on the entire spectrum of bilateral cooperation. We agreed to the significance of this partnership for the mutual benefit of our two nations in the face of new developments," he said.
According to the foreign minister, both sides agreed on the importance of the China-Pakistan Economic Corridor (CPEC) and reiterated their abiding commitment to its high-quality development.
"This year marks the completion of a decade of the China-Pakistan Economic Corridor (CPEC), which remains a shining example of the Belt and Road cooperation, which accelerated socio-economic development job creation and improved peoples' livelihood in Pakistan," he added.
The FM maintained that CPEC remained a win-win initiative, open to all investors around the world. He furthered that Pakistan was grateful to China "for its generous and timely assistance" as it continued to grapple with headwinds in the global economy
Bilawal said that the Pakistan-China friendship was irreversible and the "mutual warmth and trust was a shining example of multilateral cooperation".
He stated that Pakistan remained against bloc politics or great power competitions of any kind and that it looked forward to "working together with all countries to address common challenges of development and connectivity".
He expressed the country's commitment to remain engaged with China to promote "south-south cooperation", especially in "light of emerging global concerns like human-induced climate change".
FM Bilawal reiterated the two countries' resolve to "continue to engage in mutually beneficial cooperation to provide tangible benefits to both people".


Source link