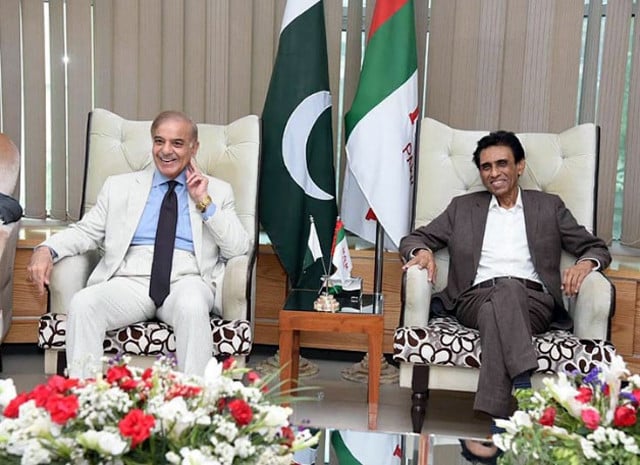 [ad_1]
The ruling Pakistan Democratic Movement (PDM) leaders have assured MQM-Pakistan of addressing its concerns over "biased delimitations" as the latter mulls quitting the PML-N-led coalition government at the Centre, The Express Tribune learnt on Friday.
According to sources, MQM-Pakistan's Coordination Committee has summoned an emergency meeting to deliberate on the option of parting ways with the federal government over its dispute with the PPP-led Sindh government on local government delimitations in Karachi and Hyderabad.
The federal ministers of MQM-P have also submitted their resignations to party chief Khalid Maqbool Siddiqui, they added.
The MQM-P believes that if the federal government cannot help in addressing its reservations over delimitations then there is no point remaining part of the ruling alliance, the insiders said.
The potential move will put the federal government in jeopardy as Prime Minister Shehbaz can lose majority in the National Assembly without the support of MQM-P lawmakers.
However, the MQM-P has also convened a general workers' meeting tomorrow to take important decisions in this regard.
Meanwhile, PTI Chairman Imran Khan has also held consultations with the party leaders wherein it was deliberated that President Arif Alvi may ask PM Shehbaz to obtain a vote of confidence from National Assembly if MQM-P quit the ruling coalition.
Also read: MQM-P reunifies breakaway factions ahead of LG polls
PDM leaders reach out to Siddiqui
Prime Minister Shehbaz later in the evening telephoned MQM-P Convener Khalid Maqbool Siddiqui and assured him his reservations regarding delimitations will be addressed by tonight.
"We want implementation on our demands. We are under pressure from the people and workers and they are waiting for your positive response," Siddiqui was quoted as saying during the telephonic conversation with the premier.
Likewise, PPP co-chairperson Asif Ali Zardari, PDM chief Maulana Fazlur Rehman and federal minister Ayaz Sadiq also called Siddiqui and assured him of addressing his concerns on delimitations.
Sindh Governor Kamran Khan Tesori, who belongs to MQM-P, also contacted the party chief and requested him to resolve the issues through mutual consultation.
Later, Siddiqui told the media at party's Bahadurabad headquarters that Zardari has telephoned him and it is hoped that "he will fulfil his promise".
He said the PPP co-chairman acknowledged the MQM-P's concerns, saying that they were looking into the matter and expressed hope for positive outcome.
A delegation of MQM-Pakistan will meet the prime minister tomorrow in Islamabad, sources further said.

[ad_2]
Source link