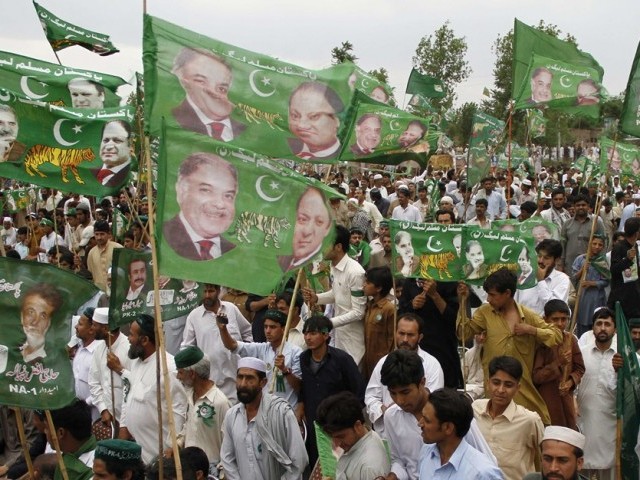 Faced with burgeoning perils, a frustrated PML-N is swinging out against its arch-rival PTI and blaming the judiciary after it lost its citadel to it. But party leaders are concerned that this could be a recipe for self-destruction, urging the central leadership to wake up to the ground reality.
If the threat to the PML-N's government in Islamabad is not neutralised, the party will in all probability directly take on the establishment, a senior party leader feared.
From heaping blame on the judiciary for maintaining a "dual standard of justice" to accusing the establishment of not seeing their government through the difficult economic decisions taken to stop the country from falling into the abyss of bankruptcy, the party has fast shifted gears from passive to aggressive.
However, several senior leaders that The Express Tribune spoke to in the last twenty-four hours feared the path was self-destructive.
"The central party leadership should come out of their ego chambers and get in touch with the ground reality instead of going on destructive mode, which will only further damage the party position," a young party leader said.
Read more: Elections to be held on time, govt to complete its tenure: PDM
Many senior party leaders, including federal ministers, have held press conferences to criticise the role of the judiciary on a judgement of the Supreme Court that saw Hamza Shehbaz losing his Punjab government.
Interestingly, a young leader of the party said that his party was barking up the wrong tree, assessing that it was pointless to take on the judiciary at this stage. Instead, he added, a 'wait-and-watch strategy' was in the best interest of the party. He suggested that his party should try to take a leaf out of Imran Khan's playbook.
"Khan has managed to tap into the young voter's mind with a very well thought out strategy. Instead of acknowledging his ability to do what many parties have long failed to do, the PML-N and even other major political parties were trying to pin him down using conventional means."
He said that Imran Khan's message has seeped into the minds and hearts of a large audience.
"Not even young PML-N leaders want Pakistan to be back in the 1990s, everyone wants a change and a better future," he added. Imran Khan has employed all the successful narratives used since the inception of the country, from the anti-American rhetoric to the rhetoric of freedom and to bringing an Islamic system.
He has managed to strike the right cords whereas PML-N's leadership was completely aloof to the ground reality, the leader lamented.
'PML-N should tone down line'
He stressed that PML-N was not a regional party because it had footprints in all provinces, adding there was no reason to go into panic mode. "PML-N leaders should tone down their aggressiveness and instead try to reason with the voters, and simultaneously wait for a window of opportunity to present itself."
Discussing the reason why central leaders wanted to remain aloof to the wants of the people, he said that voters of late have started to hate dynasty politics, call it Imran-Khan-factor or social media influence, come what may, but this newfound hate is now irreversible.
"Leadership of major political parties have positioned their younglings to take their positions on the throne, and frankly voters hate it," he added.
The problem, he said, will not remain limited to central leadership; rather it will in later stages seep down to the level of MNAs and MPAs, adding no new breed of leadership was being prepared by any party because the local bodies system in no province was allowed to flourish.
With the absence of local bodies and student unions, where will the new crop of leadership emerge from, the party leader questioned.
He worryingly said if course correction was not done in the coming month or so, the worst for the party was yet to come and added that the PTI's success should only send PML-N party brains back to the drawing boards to re-strategize and chalk out a better plan of action.
"Political parties should realize that social media has changed political dynamics and now they need to update their political e-playbook."
'No time for confrontation'
Similarly, two other senior leaders disagreed with the confrontational approach the party has taken, with one of them saying that the confrontational approach has paid dividends but now was not the time.
PTI managed to win this round of by-election, and PMLN should have gracefully accepted their defeat, he added.
With more votes in Punjab Assembly, they should have been allowed to make a government.
When asked who he thinks was behind this, he said that Shehbaz Sharif was a cool-minded man, so this strategy cannot be his.
However, Federal Minister Javed Latif lamented that injustice was meted out to his party, questioning how can there be two parameters to judge cases of similar nature. He affirmed that the PML-N will fight the matter to the bitter end and will take its case to the people.


Source link