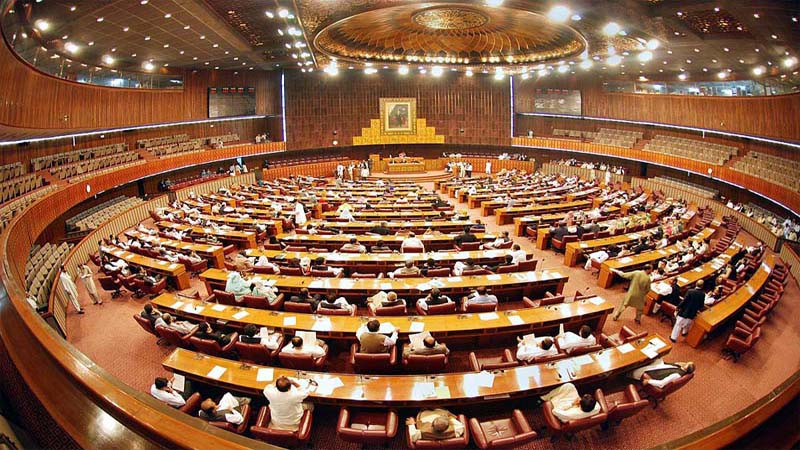 The joint sitting of parliament on Tuesday approved three bills while the session was boycotted by the PTI.
The session was held under the chairmanship of National Assembly Speaker Raja Pervaiz Ashraf.
The House passed the Trade Arrangements Amendment Bill 2022 Islamabad, Domestic Workers Amendment Bill 2022 and Dyslexia Special Measures Amendment Bill 2022.
The bill for production, transmission and distribution of electricity could not be presented due to the non-participation of PPP member Jam Abdul Karim Bijar.
The government tried to present a bill related to parents without an agenda but backtracked due to the opposition of federal minister Syed Naveed Qamar.
Meanwhile, raising objection, Jamaat-e-Islami MNA Maulana Abdul Akbar Chitrali held the interest system responsible for the prevailing economic crisis in the country. He said the government and the PTI had agreed on the continuation of this system.
He said one of his bills which was against the interest system had been pending for the last three-and-a-half years.
Chitrali pointed out that the Shariat Court had also announced a verdict declaring the prevailing interest-based banking system as against Sharia.
He urged parliament to send the matter to the relevant committee.
Speaking on the occasion, National Assembly Member Mohsin Dawar called for the issuance of South Waziristan MNA Ali Wazir's production order, saying much discussion had been held on his imprisonment.
Read PTI to skip today's joint parliament session
He said Wazir should be presented in the House.
Dawar questioned why was Wazir incarcerated, pointing out that PTI leader Shahbaz Gill was also released "in two months" after being granted bail in a sedition case.
"We should be told whether Ali Wazir's problem is a domicile or something else?" he asked.
"The ECP said that elections could not be held in Kurram due to law and order [situation]. Can't all the state institutions together hold polls there? This way general election will not be held in the tribal districts."
Federal Minister for Parliamentary Affairs Murtaza Javed Abbasi called for "seriously" looking into the law and order situation in the Khyber-Pakhtunkhwa.
He condemned former finance minister Shaukat Tareen for his purported audio leak with K-P finance minister in which he is calling for "sabotaging the IMF programme".
The government announced filing a reference against former NA speaker Asad Qaiser, ex-finance minister Shaukat Tareen and former deputy speaker Qasim Khan Suri on Abbasi's point of objection.
Fearing audio leaks, Defence Minister Khawaja Asif said that non-members should be removed from the lobbies so that no conversation goes out of the House.
The session was boycotted by the PTI.
Later, the NA speaker adjourned the joint sitting of parliament till November 18.


Source link