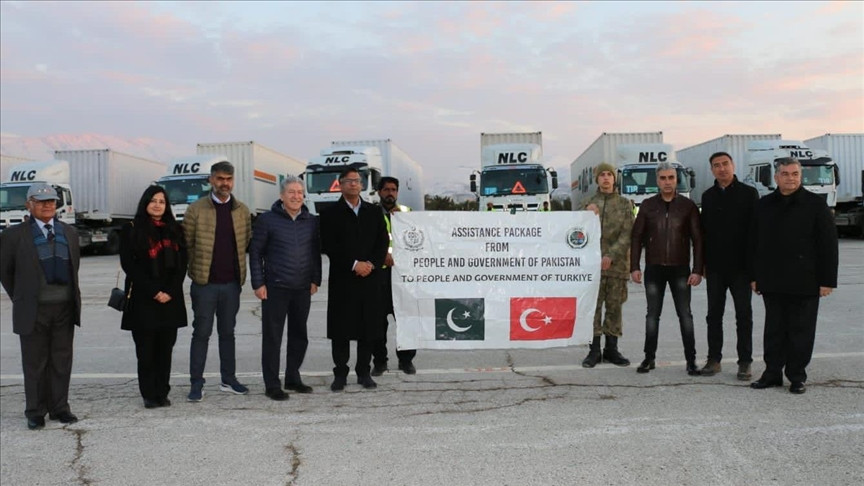 A truck convoy from Pakistan carrying aid for quake victims arrived in Turkiye on Saturday, the Pakistani embassy said.
"A 21-truck convoy carrying 275-tonne relief assistance goods from Pakistan arrived at Malatya, one of worst hit cities by earthquake, this afternoon," said the embassy in a statement, adding the trucks are mainly carrying winter tents, blankets and other essential relief goods.
The embassy said that an air bridge was established between the two countries when the twin earthquakes hit southern Turkiye on Feb. 6.
"As of now, 20 flights have brought relief assistance goods to Turkiye. A ship carrying earthquake relief goods is also scheduled to leave Pakistan for Turkiye soon," it added.
The convoy was received by Mataya's deputy mayor Hakan Ezgi and Pakistan's Deputy Ambassador Abbas Sarwar Qureshi and other officials.
Read more: Turkey begins to rebuild for 1.5 million left homeless by earthquakes
"Pakistan and Turkiye have a glorious history of supporting each other under all circumstances. As per the wishes of the Prime Minister and people of Pakistan, relief assistance shall keep coming from Pakistan to brotherly Turkiye till complete recovery and rehabilitation," said Qureshi.
Prime Minister Shehbaz Sharif last week said his country will dispatch 100,000 winter tents to Turkiye by the end of this month.
According to the latest official figures, over 44,218 people were killed in the powerful earthquakes in southern Turkiye.


Source link