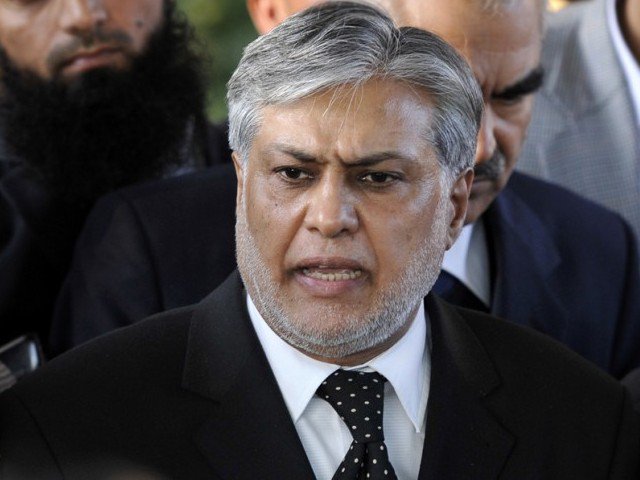 Finance Minister Ishaq Dar on Saturday assured that Pakistan would not default and would be able to meet its upcoming $1 billion dollar bond payments in December.
Addressing a press conference through video-link, the finance czar maintained that he was aware of rumours that the country would be unable to pay $1 billion in the first week of December against the maturity of the five-year Sukuk (Islamic) bonds.
LIVE #APPNews : Finance Minister Senator Ishaq Dar addressing news conference #Islamabad @FinMinistryPak @MIshaqDar50 https://t.co/VW2JY1uz9E
— APP 🇵🇰 (@appcsocialmedia) November 19, 2022
"We have never defaulted before. We will never even be close to default," he stated, categorically saying that there will be no delay in the payment and that arrangements have already been made for upcoming payments in 2023.
He added that no one should be concerned regarding the payments.
Commenting on another "political" rumour regarding Pakistan's credit default swap, he said that the country's international bonds had very minor transactions and should remain unimpacted.
The finance minister said that people should desist from speculation about increased risk, saying that such "irresponsible statements" would hurt the country and should be avoided.
He maintained that it would be cruel to Pakistan if those in positions of responsibility used "speculative calculations" to their advantage and spread them across electronic media.
Read Finance Minister Ishaq Dar calls on President Arif Alvi
The minister also dispelled the rumour that Pakistan would face a fuel shortage in the next few days, and stated that reserves were at the level they needed to be and that there is no need for worry.
Dar urged people to not worry and to avoid spreading rumours as it leads to concern from the nation, as well as local and international organisations.
Discussing the rumour that the current account deficit had peaked, Dar stated that nothing akin to the rumour had happened, and the situation was being observed carefully and was being monitored and managed.
The finance minister furthered that the current account deficit was $316 million in September and was expected to be below $400m in October.
"If this continues at the same pace, it will be around $5-6 billion for the year [while] the projected was $12 billion," he declared.
Dar once again maintained that the country came before any political affiliation. He reiterated that rumours about the economy should not be spread and that statements should be issued responsibly.


Source link