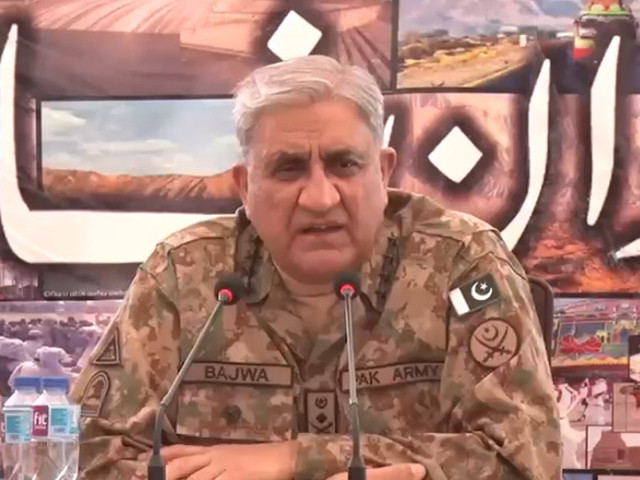 [ad_1]
Chief of Army Staff (COAS) General Qamar Javed Bajwa said on Wednesday that Pakistan wanted peaceful and close ties with its neighbours, the military said.
According to Inter-Services Public Relations (ISPR), the COAS expressed these views during a meeting with Commander Islamic Republic of Iran Air Force Brigadier General Pilot Hamid Vahedi at GHQ in Rawalpindi.
During the meeting, the military's media wing said, matters of mutual interest, regional security situation and bilateral cooperation between the two countries were discussed.
Read more: Pak-Iran border symbol of peace, friendship: COAS
The army chief said that Pakistan wanted peaceful and close ties with its neighbours and stressed on the need for collective efforts towards regional stability. Both sides, according to ISPR, agreed to enhance cooperation in the defence and security fields.
According to the statement, the visiting dignitary acknowledged the professionalism of Pakistan's armed forces and vowed to enhance cooperation in various fields.
He also appreciated Pakistan's role in the Afghan situation and effective border management measures.
Earlier this month, the army chief termed the Pakistan-Iran frontier as a border of peace and friendship in a meeting with the Iranian interior minister.
According to ISPR, Iranian Interior Minister Ahmad Vahidi along with a delegation visited the General Headquarters in Rawalpindi and discussed bilateral matters including security issues.
The geostrategic environment particularly regional security situation and bilateral cooperation in defence and security domains were discussed during the meeting, the ISPR said.
Also read: Iran calls for unity to thwart designs of anti-Muslim forces
The Pak-Iran border security mechanism including border markets also came under discussion, it added.
The Iranian minister, while acknowledging stability in Afghanistan as collective regional responsibility, appreciated Pakistan's efforts for peace and stability, particularly humanitarian assistance being rendered to mitigate challenges faced by the people of Afghanistan.

[ad_2]
Source link