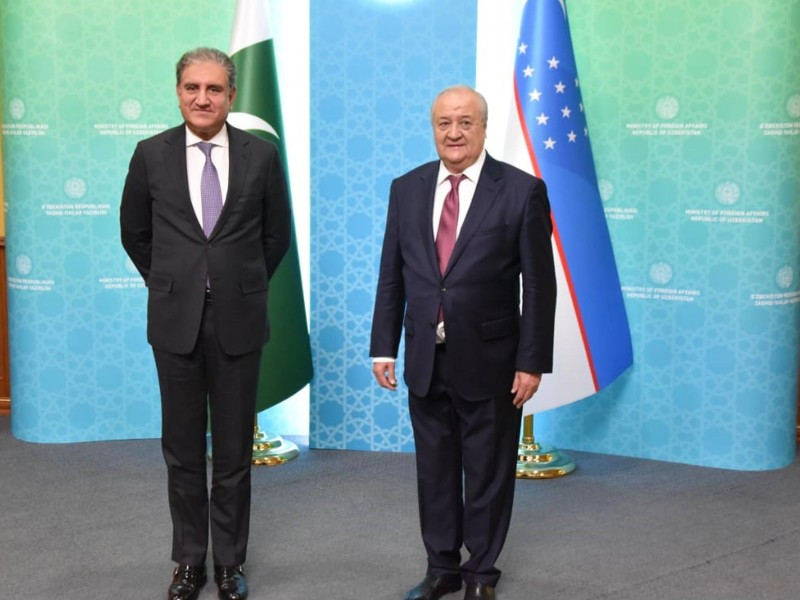 [ad_1]
Pakistan and Uzbekistan will sign a preferential trade agreement this week to lower duties on nearly three-dozen products in the range of 20% to 100% aimed at giving a boost to the trade value that remains very thin despite vast potential.
The preferential trade agreement will be signed during a two-day visit of Uzbekistan President Shavkat Mirziyoyev, who is arriving Pakistan today (Thursday).
The visit comes on the heels of Prime Minister Imran Khan's trip to Uzbekistan in July last year when both the countries had signed the transit trade agreement.
The preferential trade agreement covering a total 34 goods may give a boost to the bilateral trade that according to the State Bank of Pakistan remained at only $66 million in the last fiscal year. Pakistan had exported $22 million goods as against $40 million imports during fiscal year 2021-22.
Read: At UN, Pakistan refuses to condemn Russia
However, there is some upward movement in the bilateral trade that was recorded at $60 million during first seven months of the current fiscal year. Pakistani authorities said that both the countries were also trading at the name of Afghanistan to avoid complications. Kabul had created obstacles in the transit trade, which was also a reason for low volumes since Uzbekistan is a landlocked nation.
In the preferential trade agreement, both the countries have agreed to give tariff concessions to each other on 17 items, by reducing duties from 20-100%. The concessions have been approved by the Tariff Policy Board, in the meeting held on Monday.
The concessions are based on principle of reciprocity and parity. The government has sought the approval of the federal cabinet for signing the preferential trade agreement during the visit of the Uzbek President.
Both the countries have also agreed to work together to minimise non-tariff barriers and measures by mutual recognition of standards and easing procedural requirements for goods.
From the date of entry into force of this Agreement no new non-tariff barriers or measures having equivalent effect shall be introduced in trade of goods specified in the PTA, according to the decision.
Pakistan has secured zero duty on export of cement, plates, sheets, film, foil and strip, of non-cellular polymers of ethylene, tubes and pipes of iron and steel, bottles, flasks, jars, pots, phials and other containers, of glass and maize starch to Uzbekistan.
Uzbekistan has agreed to reduce custom duties by 20% on import of paints and varnishes, chemicals, mobile phones, confectionary and bakery items, tobacco, cutlery and mobile phones from Pakistan.
Read More: Opposition 'ready' to file no-trust move
Uzbekistan has also agreed to cut 20% custom duty on import of banana and citrus from Pakistan but the duty rate cannot be less than 20 cents per kilogram.
In return, Pakistan has agreed to completely waive off custom duty on import of beans, dried apricots, ground nuts from Uzbekistan. It has also agreed to 50% reduce the custom duty, 100% reduction in additional custom duty and 25% reduction in regulatory duty on import of sugar confectionery.
Pakistan has also agreed to waive off 50% custom duty and 100% additional custom duty on imports of chocolates. The custom duty and additional custom duty on import of copper wires will also been completely waived off by Pakistan.
Islamabad agreed to reduce 20% customs duty on the import of air conditions and refrigerators. Duty on liquid dielectric transformers of 10kV is reduced by 25% and is completely waived off on import of inductors.
The custom duty on import of reception apparatus of televisions is reduced by one-fourth and half on import of electric conductors.
In order to counter any damage to the economy due to dumping of goods or subsidization, the affected country will have the right to take anti-dumping and countervailing measures, according to the draft agreement.
Read Also: Trade deficit stays high at $32b
Also, where any country is in a serious balance of payments difficulty or under threat of a BOP crisis, it may adopt restrictive measures, which will be of limited duration and may not go beyond what is necessary to remedy the external sector situation.
Any dispute arising from the implementation of the agreement will first be settled amicably through bilateral consultations by the joint committee to be setup for the implementation of the preferential agreement.
This Agreement will remain in force for the period of five years and any country can give notice of termination of this agreement not less than one year before it is due to expire.The agreement is extendable further.

[ad_2]
Source link