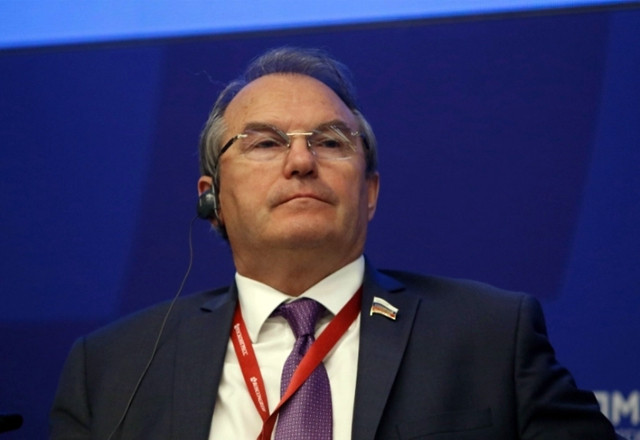 Islamabad sought explanation from Russia on Tuesday after one of its senators alleged that Pakistan and Ukraine recently discussed the technologies for developing nuclear weapons.
"We are surprised by such an unfounded and baseless statement. It is without any rationale, and is entirely inconsistent with the spirit of Pakistan-Russia relations," Foreign Office Spokesperson Asim Iftikhar said in a statement.
"We are seeking clarification on this from Moscow," the spokesperson said, referring to Russian Senator Igor Morozov allegation that Ukraine and Pakistan recently discussed the technologies for developing nuclear weapons.
The latest claim came after Russia ramped up its rhetoric regarding Kyiv's alleged preparations to use a radioactive "dirty bomb."
Morozov, a member of the Federation Council's defence committee, claimed that Ukrainian experts travelled to Pakistan and met with a delegation to discuss nuclear weapons technology, Russia's state-owned news agency RIA Novosti reported.
The Russian lawmaker made the remarks during a news conference titled "Nuclear Provocations in Ukraine: Who Needs It?" as part of the special project "Ukrainian Dossier."
Morozov argued that the ability of Ukraine to produce a "dirty bomb" was not a secret to anyone. However, he contended that lack of financing was the fundamental issue.
"The threat is real," Morozov stated, while discussing the potential of Ukraine to use a "dirty bomb" as provocation. He added that the Tochka-U munition could be employed with a low-power nuclear charge.
Additionally, he did not completely exclude the possibility that Ukrainian President Volodymyr Zelenskyy discussed nuclear weapons with his British and American allies.
Morozov also highlighted that without the approval from the Congress, the United States president was permitted to use low-yield atomic bombs anywhere in the world.
But the Russian politician offered no convincing evidence to support his claims that Islamabad was previously found sending weaponry and ammunition to Kyiv in the ongoing Russia-Ukraine conflict.
Pakistan has maintained a delicate balance since Russia invaded Ukraine. It has not explicitly condemned the Russian action but at the same time has expressed concerns over the humanitarian situation in Ukraine.


Source link