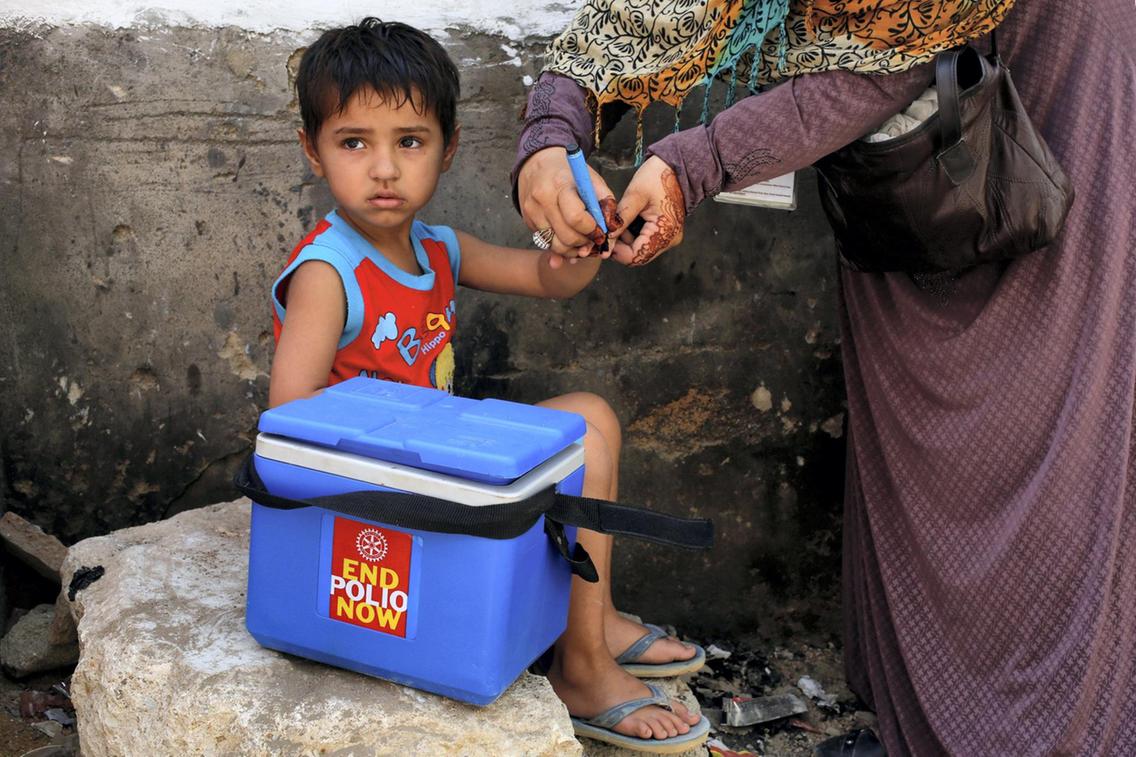 Pakistan reported its second case of wild poliovirus on Friday when a stool specimen from a two-year-old girl – a resident of district North Waziristan in Khyber-Pakhtunkhwa – turned positive, health officials said.
This is the fourth case of wild polio to be recorded globally in 2022 and the second in Pakistan which was reported on April 22 in the same district.
"Today, the Pakistan National Polio Laboratory at the NIH, Islamabad, has confirmed the detection of Type-1 Wild Poliovirus from the stool specimen from a 24-month-old girl from district North Waziristan, K-P. The girl had onset of paralysis on 14 April 2022," an official statement said.
Read more: Pakistan reports first polio case in 15 months
Pakistan had reported only one WPV1 case in 2021 which had onset of paralysis on 27 January in Killa Abdullah, Balochistan, it added.
The statement said that genetic analysis of the new Type-1 Wild Poliovirus case shows that the virus belongs to YB3C cluster and is linked to the poliovirus case reported last week.
"This indicates well-established wild poliovirus circulation within district North Waziristan," it warned.
Southern Khyber-Pakhtunkhwa had been identified by the polio programme as the area most at risk after wild poliovirus was detected in environmental samples in the last quarter of 2021. Positive environmental samples of wild poliovirus in Khyber-Pakhtunkhwa had been found in DI Khan and Bannu divisions.
Also read: Vaccination drive kicks off on April 24
In 2020, the K-P reported 22 cases, while no wild poliovirus cases were recorded in the province last year.
Substantial progress has been made recently, with most areas accessible to implement immunisation campaigns, but deep-rooted problems and security concerns remain in limited areas. Despite the challenges, the programme's brave frontline workers continue to reach children with the life-saving vaccine.
Wild poliovirus types 2 and 3 have been eradicated globally, while WPV1 cases are at a historic low. Two other WPV1 cases have been reported this year, one each in Afghanistan and Malawi.
The programme is capitalising on the momentum gained in the last year and continues to strive for zero-polio. Parents must continue to vaccinate their children during every immunization round until they reach the age of five.
Pakistan remains one of only two countries in the world with circulating wild poliovirus, together with Afghanistan. Polio is a highly infectious virus and until this last remaining epidemiological bloc wipes out polio, children all over the world remain at risk of life-long paralysis or fatality by the poliovirus.


Source link