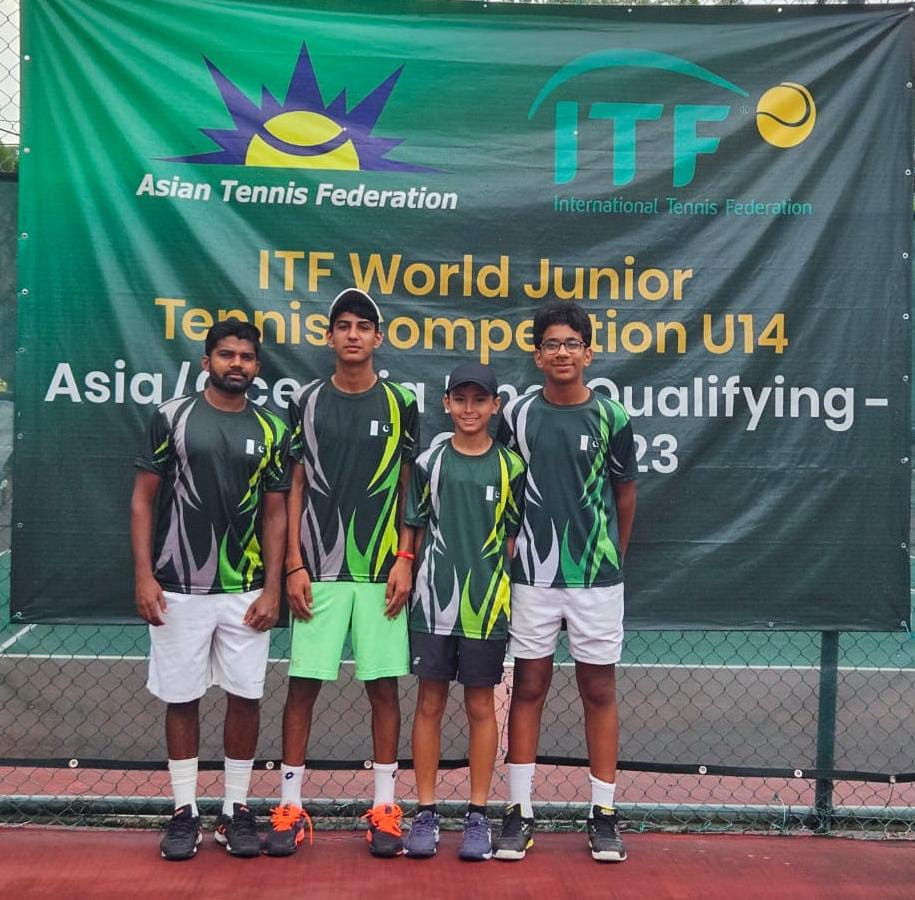 Pakistan U14 players made histroy as they booked their place in the World Group of the World Junior Tennis (WJT) Team Championship finals after an impressive run in Kuching, Malaysia where they played the Asia/Oceania Qualifying Tournament.
The last time a team qualified for the world finals was in 1996.
The players including Hamza Roman, Abubakar Talha, and Amir Muhammad Khan Mazari along ith captain, Davis Cupper, Heerqa Ashiq with stellar wins against Hong Kong in the semifinal and Australia in the quarterfinal, respectively.
Talha outplayed Wong Selyn Tsz Yuen 6-3,6-2 in the semifinal tie's first single's rubber to take the lead, but Roman lost to Tam Sin Hang 6-1,6-1 as the result stood 1-1.
But both Talha and Roman made sure that they seal the win in the doubles with 7-5 (5), 6-4 agaisnt Fu Wang Choi and Hang.
They brilliantly won matches from Iran and Indonesia and lost to Japan to finish second in the group.
The team confirmed their place in the finals after they won the quarterfinal 2-1 as they overcame Australia.
The team will play Japan on April 1 for the top palce while South Korea and Hong Kong will play for the third and fourth place.
The total of 16 countries comepted in the qualifying round, the list includes Australia, Japan, South Korea, India, Iran, Thailand, Kazakhstan, Hong Kong, Uzbekistan, Chinese Taipei, Jordan, Kyrgyzstan, Singapore, Indonesia and Pakistan.
From the Asia/Oceania qualifying round Hong Kong, Japan, Korea, Rep. and Pakistan have confirmed their places in the WJT finals that are scheduled from August 7-12 in Prostejov, Czech Republic.
The last time a Pakistani junior team qualified for the finals was in 1996 which included Nomi Qamar, the late Ejaz Ahmed, Shahzeb Niazi, and Rashid Ahmed Malik as the captain in the team.
"The Pakistan Tennis Federation Prsident Salim Saifullah Khan and the management send their heartiest congratulations to the captain, players, parents, and coaches and wished them success in the future, as well as at the World Group Event in the Czech Republic.That will also comprise 16 of the world's best 14U teams, providing a tremendous opportunity for our players to play against the finest from all ITF global zones," read the press release on Friday.