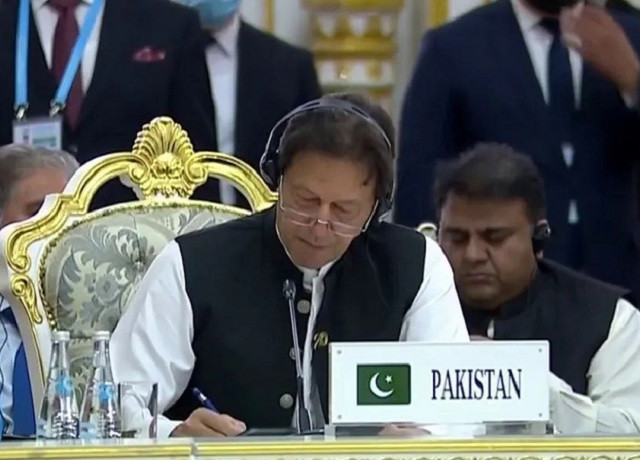 Prime Minister Imran Khan on Friday said Pakistan has a vital interest in a peaceful and stable Afghanistan as he urged the international community to play its role in averting another humanitarian crisis in the war-torn country.
Addressing the 20th Shanghai Cooperation Organisation Council of Heads of State (SCO-CHS) Summit in Dushanbe, the premier said it was time to stand with Afghanistan.
#Live: PM @ImranKhanPTI addressing #SCO summit in Dushanbe https://t.co/My48S8iXTZ
— Radio Pakistan (@RadioPakistan) September 17, 2021
He added that the Afghan government has primarily relied on international aid; therefore, it was imperative to lend the country humanitarian assistance without any delay.
"The Taliban must fulfil the promises they have made," he said and added that Pakistan will continue to lend its support to Afghanistan to support peace and stability in teh region. The premier reiterated that Afghanistan could not be "controlled from the outside".
Earlier, the PM arrived at Nauroz palace – the venue of the SCO meeting — where he was warmly received by Tajikistan's President Emomali Rahmon.
Read NSA urges US to engage with Afghanistan
The PM's visit is part of Pakistan's deepened engagement with Central Asia, through the 'Vision Central Asia' policy, with a revitalised focus in five key areas of political ties, trade and investment, energy and connectivity, security and defence, and people-to-people contacts.
What is SCO
The SCO, an eight-member permanent inter-governmental trans-regional organisation, was established in Shanghai on June 15 2001. Pakistan became an SCO observer in 2005 and a full member in June 2017 during the Astana SCO-CHS Summit.
Russia, China, India, Uzbekistan, Kazakhstan, Kyrgyz Republic and Tajikistan are other SCO members.
The SCO also has four Observer states (Iran, Mongolia, Belarus and Afghanistan) and six Dialogue Partners (Azerbaijan, Armenia, Cambodia, Nepal, Turkey and Sri Lanka).
More to follow


Source link