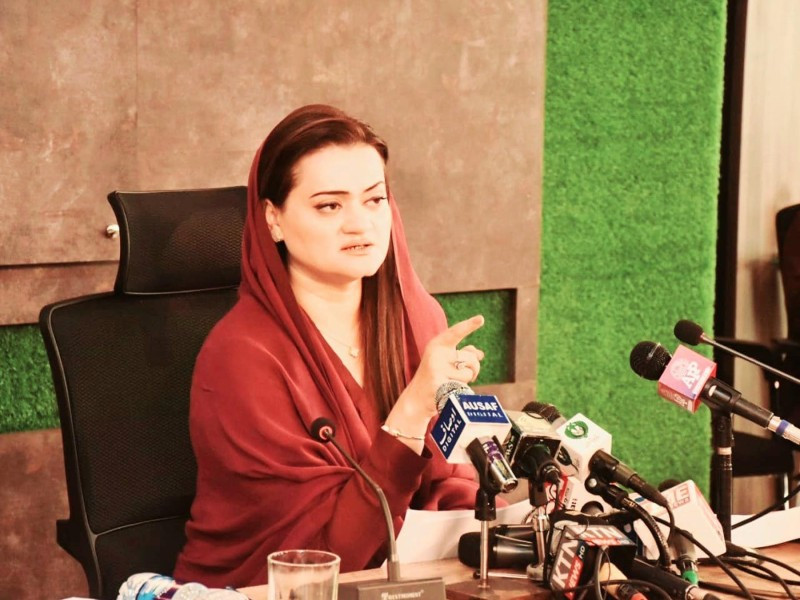 As the Pakistan Tehreek-e-Insaf (PTI) commenced its long march to the federal capital on Friday, Information Minister Marriyum Aurganzeb claimed the people had "rejected" the party's "bloody march".
While responding to PTI leader Fawad Chaudhry on Twitter, the minister said, "the nation, while rejecting to be slave to a Constitution-violating, foreign-funded nuisance, has rejected the bloody march. The youth does not want to be the protectors of a Toshakhana thief, Farah Gogi and Bushra Bibi".
قوم نے آئین شکن فارن فنڈڈ فتنہ کا غلام بننے سے انکارکرتے ہوئے #خونی_مارچ_نامنظور مسترد کردیا ہے۔نوجوان توشہ خانہ چور ، فرح گوگی، بشری بی بی کے نظام پہ ڈاکوں کے محافظ نہیں بن سکتے۔عوام نے فتنے کی ہوس اور اقتدارکی بھینٹ چڑھنے سے انکار کر دیا ہے https://t.co/EIadTFiRj7
— Marriyum Aurangzeb (@Marriyum_A) October 28, 2022
The people have refused to fall prey to the "nuisance's greed for power", she added.
Empty streets
Pakistan Muslim League-Nawaz (PML-N) on Friday shared clips from the streets of Lahore, claiming the PTI's long march was a bust.
"Scenes from Liberty Chowk, Lahore at 1:00pm. People across the country have rejected the 'bloody march'," the tweet read, adding that, "Pakistani people are not ready to be a part of any campaign against the country and its institutions".
دن ایک بجے لبرٹی چوک کے مناظر، لاہور سمیت ملک بھر کی عوام اس #خونی_مارچ کو مسترد کر چکی ہے۔ پاکستانی عوام ملک اور اداروں کے خلاف کسی مہم کا حصہ بننے کو تیار نہیں pic.twitter.com/pWjdn9xXF0
— PML(N) (@pmln_org) October 28, 2022
لاہور کی باشعور عوام نے #خونی_مارچ کو بُری طرح مسترد کردیا ہے pic.twitter.com/C3fUTXfUrs
— PML(N) (@pmln_org) October 28, 2022
Civil servants warned
The Ministry of Interior issued a memo warning all civil servants against "deviating from the Constitution and the laws of the land".
Read Imran receives roaring welcome as he reaches Liberty Chowk
"It is clear that civil servants are bound to act as servants of the state, and their actions should be subservient to the relevant constitutional provisions to ensure smooth conduct of relations between the federation and the provinces," the statement read.
"There should be a defined way of carrying out protests as enshrined in the Constitution as enunciated in various judgments of the Supreme Court of Pakistan. It is equally important to ensure that no government employee be allowed to join any such protest," it added.
'Strict action to be taken'
Interior Minister Rana Sanaullah while speaking to the media today, warned that strict action will be taken in case PTI attempted to break the law during its demonstration.
He clarified that the Supreme Court's orders pertaining to protests were clear and if they abide by the law, the government will facilitate them.
Moreover, Sanaullah added that the rise of "mob culture" in the country was starting to threaten democracy.
March plan
According to the party's plans, the march will commence from Lahore's Liberty Chowk today and will reach Rawat by November 3, where the leadership will decide on the next course of action.
The first priority of the party would be to hold a public rally, whereas the second priority would be to turn the protest into a sit-in.
"We will stay peaceful. If any disruption comes, it would be from the other side, not ours. We are aiming for soft revolution. We are not going to Islamabad to create any mischief," Imran assured, adding that despite all his peaceful intentions he was ready for arrest as well.


Source link