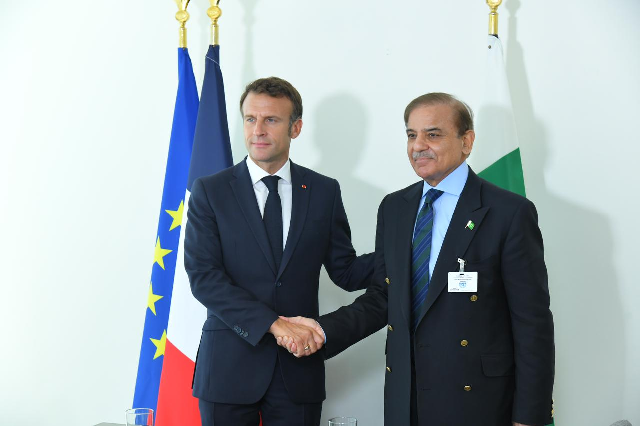 Relations between Pakistan and France have seen gradual improvement in recent months after increased exchanges between the two countries, officials familiar with the development have said.
The ties between the two countries had been strained during the Pakistan Tehreek-e-Insaf (PTI) government after a religious group sought to review bilateral relationship with France over the blasphemous caricatures.
Then prime minister Imran Khan though resisted severing ties with France and expelling its envoy from Islamabad, but his government reduced engagement to avoid public backlash.
In one such instance Imran did not speak to French President Emanuel Macron when he wanted to talk to him last September in the wake of US-led foreign forces withdrawal from Afghanistan.
Also read: Ties with France to be deepened: PM
Diplomatic sources said that did not go down well with the French government. However, since the change of government in April there has been a revival of interaction at the highest level.
Prime Minister Shehbaz Sharif met the French president on the sidelines of the UN General Assembly session in New York in September.
The French president offered to host a donors' conference, which is expected to take place later this month in Paris to generate funds for the flood victims in Pakistan.
It is believed that France, being an important member of the Financial Action Task Force (FATF), also played an important role in ensuring the exit of Pakistan from the dreaded grey list.
Pakistan has not sent a full-time ambassador to Paris for a long time but finally Asim Iftikhar, the spokesperson of the foreign office, will soon take charge as the country's envoy in the key European country.
In another sign of improvement in the relationship, French Ambassador to Pakistan Nicolas Galey called on Chief of Army Staff (COAS) General Qamar Javed Bajwa at the GHQ on Tuesday.
"During the meeting, matters of mutual interest including defence and security cooperation and overall regional security situation were discussed," said a statement issued by the Inter-Services Public Relations (ISPR).
Also read: West pushes Pakistan to 'vote against Russia' at UN
Pakistan values its relations with France and we earnestly look forward to enhance mutually beneficial multi-domain relations based on common interests, the army chief said during the meeting.
Both the officials reiterated the desire to further enhance bilateral relations in all fields.
"The visiting dignitary expressed his grief over the devastation caused by floods in Pakistan and offered sincere condolence to the families of the victims.
"The visiting dignitary appreciated Pakistan's efforts for regional stability and pledged to play his role for further improvement in diplomatic cooperation with Pakistan at all levels," the statement added.


Source link