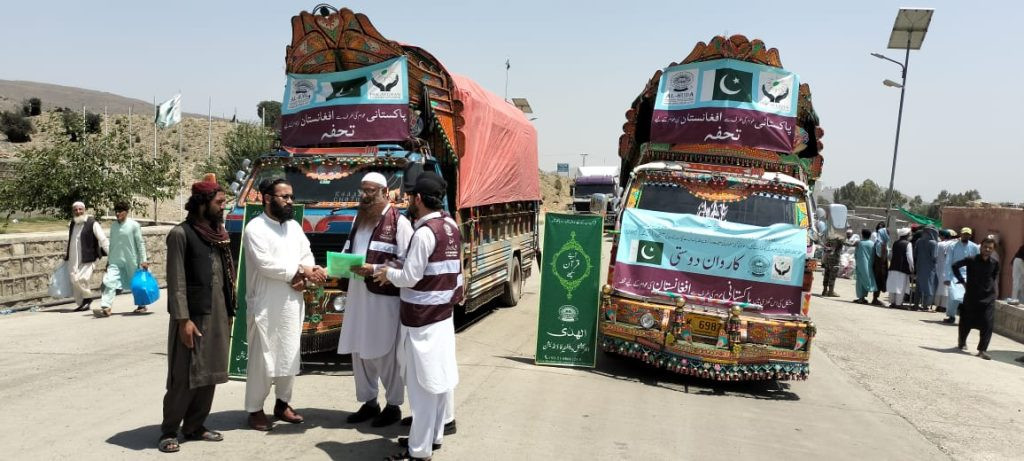 The Pakistan Afghanistan Cooperation Forum (PACF) on Wednesday dispatched two trucks, carrying 24.5 tonnes of food, to the Afghan people hit by the recent earthquake.
The trucks carrying 700 family ration bags crossed Ghulam Khan crossing under the arrangements made by the PACF.
The aid consignment was received by the representative of Governor of Khost who thanked both PACF and Alhuda International for the assistance.
Earlier, the PACF also handed over five trucks carrying 37.5 tonnes of food aid, winter bedding, tents, tarpaulins, and clothes to the Afghan authorities at Zero line Ghulam Khan border crossing.
Read more: Pakistan Army dispatches aid, choppers to quake-hit Afghanistan
At least 1,000 people had died and around 3,000 sustained injuries while hundreds of houses were destroyed in the quake which affected the mountainous province of Paktika.
Following the earthquake, Afghanistan's Taliban government had appealed for more international help to cope with the humanitarian situation.
Taking urgent measures, the Pakistan Army had set up a free medical camp for the quake-hit people in Dubai, Paktika, while free-of-charge ration has also been arranged for the families in need.
Also read: China to provide $7.5 million in humanitarian aid to Afghanistan
The Pakistan Army has also established a temporary gate for the burial of those belonging to the Madakhel tribe, at the Alwara Mandi.
The forces have also provided two helicopters to transport the critically injured to the hospitals, while a special entry system has been set up for quake affectees at the Ghulan Kham border.
Quake was the deadliest since 2002. It struck about 44km from the southeastern city of Khost, near the border with Pakistan, the US Geological Survey (USGC) said.
The landlocked country's eastern province of Paktika was the most affected, with reports of significant damage from the areas of Giyan, Nakai, Bermal and Zerak. In Khost province, the area of Seprai bore the brunt of the early morning tremors.
Shaking was felt by about 119 million people in Pakistan, Afghanistan, and India, the European Mediterranean Seismological Centre (EMSC) said on Twitter.
The disaster comes as Afghanistan grapples with a severe economic crisis since the Taliban took over, as US-led international forces withdrew following two decades of war. In response to the Taliban takeover, many nations imposed sanctions on Afghanistan's banking sector and cut billions of dollars worth of development aid.


Source link