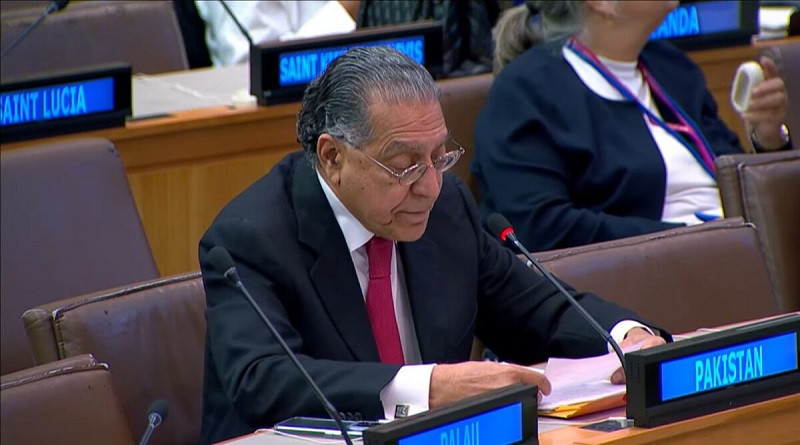 UNITED NATIONS:

Pakistan, on behalf of a group of 17 countries, called on the United Nations to "urgently" establish a mechanism to ensure the protection of Palestinian civilians being subjected to relentless bombardment in Gaza by the Israeli military and to intensify efforts to promote a peaceful solution to the Middle East conflict.
"The people of Gaza are desperately looking up to the UN to save them from further death and destruction that is being wreaked upon them with impunity," Ambassador Munir Akram told the UN General Assembly at an informal meeting held to discuss the dire situation in the besieged enclave.
The Pakistani envoy did not specify the form of the proposed mechanism, which, he said: "Shall be set up in accordance with international law and the relevant United Nations resolutions.
"The obligations under international law, including international humanitarian law and international human rights law, particularly in regard to the protection of civilians and civilian objects, as well as the protection of humanitarian personnel, must be fully adhered to."
The group of countries he spoke for are: Algeria, Bolivia, China, Cuba, Egypt, Eritrea, Iran, Saudi Arabia, Libya, Nicaragua, Nigeria, Russia, Sri Lanka, Syria, Venezuela, and Zimbabwe.
The Pakistani envoy told the 193-member assembly that more than 11,000 Palestinians had lost their lives, two-thirds of them women and children. Another 27,000 have been injured, with about 2,700, including 1,500 children, reported missing, dead, or trapped under the rubble.
Read also: Pakistan urges UNSC to restore peace in Gaza urgently
"Over 1.6 million Gazans have been displaced, and over 41,000 housing units have been destroyed. More than half of the hospitals in Gaza are non-functional due to lack of fuel, damage, attacks, and insecurity. Essential supplies of food, fuel, and medicines are blocked. Schools and places of worship are being targeted indiscriminately by Israeli strikes. No place is safe: women, children, and the elderly, as well as other civilians with specific vulnerabilities, are bearing the brunt of the onslaught by the occupying power."
He paid tribute to UNRWA's 102 staff members who have perished in Gaza, the highest number of UN aid workers killed in a conflict in the organization's history.
"The whole world expects the member states to take decisive action to end the conflict," he said.
While condemning all atrocities against Palestinian people, in line with the General Assembly's Oct 27 resolution, Ambassador Akram, speaking for the 17 countries, called for a durable "humanitarian truce" leading to a cessation of hostilities; the immediate provision of essential goods and services to civilians throughout the Gaza Strip, including but not limited to water, food, medical supplies, fuel, and electricity; the establishment of humanitarian corridors to facilitate aid delivery; and the establishment of a mechanism for civilians' protection.
"We firmly reject and condemn any attempt at the forced displacement of the Palestinian civilian population and the illegal evacuations and relocations inside Gaza and consider it a grave violation of the Fourth Geneva Convention of 1949 and its 1977 Protocol," the ambassador said. "We stress the need for the immediate return of displaced Palestinian people to their homeland."