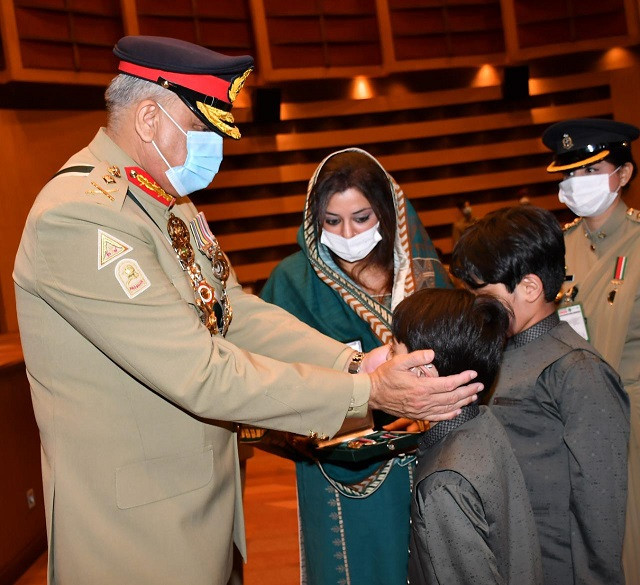 Chief of Army Staff (COAS) General Qamar Javed Bajwa has paid rich tributes to the sacrifices of martyrs, saying that the Pakistan Army has always stood for its people in all testing times.
According to the Inter-Services Public Relations (ISPR), Gen Qamar made the remarks while addressing the investiture ceremony held at the General Headquarters (GHQ) in Rawalpindi on Wednesday to confer military awards on the personnel for their acts of gallantry during operations and meritorious services rendered to the nation.
Chief of Army Staff (COAS) General Qamar Javed Bajwa distributed awards to military personnel in a ceremony held at the GHQ, Rawalpindi for their gallant services in combating threats to the nation.#etribune #news #generalqamarjavedbajwa pic.twitter.com/7KsRAMfu3J
— The Express Tribune (@etribune) May 18, 2022
"This country is safe because of your sacrifices and I salute you for that. It is the Pakistan Army that has always stood for its people whether it is a flood, a hurricane or an earthquake. You will find the Pakistan Army at all testing times," the military's media wing quoted the COAS as saying.
"The great heirs of the martyrs, ghazi officers and soldiers, general officers, recipients of SI(M) and my brave soldiers, peace be upon you!" he remarked.
Gen Qamar said, "Today, we are here again to acknowledge the sacrifices of our brave soldiers who sacrificed their lives for our beloved motherland. We have gathered here to pay tribute to them."
He noted that the safe and secure Pakistan where we are living peacefully is only because of the ultimate sacrifice of our martyrs. I always share that these martyrs and Ghazi are our real heroes. "Those nations who forget their martyrs perish."
The army chief further said that a martyr lived as long as the world existed and his name shined forever. "He [martyr] earns his name in this world and also in the world hereafter."
"A martyr is forgiven before even the first drop of his blood falls to the ground. He not only achieves success for himself but also opens the way to heaven for his family," he added.
He further stressed that no nation or country could payback for the sacrifice of its martyrs and no material power or wealth could be a substitute for his blessings.
"The Pakistan Army is the only army in the world who has been successful in eradicating terrorism. and I can share with conviction that no harm can come to Pakistan," Gen Qamar concluded.
On the occasion, the COAS conferred Sitara-e-Imtiaz (Military) on 48 officers and Tamgha-e-Basalat on seven officers, three Junior Commissioned Officers (JCOs) and 30 soldiers.
The ISPR said that medals of the Shuhada were received by their family members. A large number of senior army officers and families of awardees attended the ceremony.


Source link