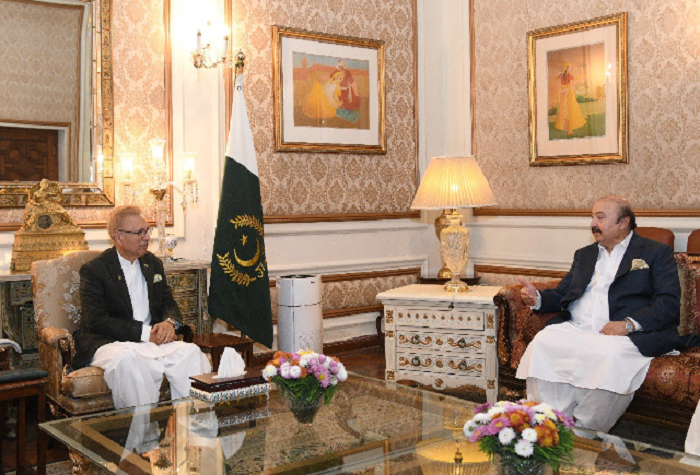 [ad_1]
Punjab Assembly Speaker Sibtain Khan has decided to write a letter to President Arif Alvi against Governor Balighur Rehman in a bid to stop him from denotifying Chief Minister Pervaiz Elahi, Express News reported on Wednesday.
The development comes as the PML-N announced that the governor would denotify CM Elahi over his failure to obtain a confidence by 4pm today.
Express News, quoting sources, reported on Wednesday that Speaker Sibtain Khan would highlight the alleged misconduct of the governor and request the president to remove him from the post over his "unconstitutional move".
In the letter, the provincial assembly speaker would maintain that the governor is the representative of the president and should be restrained from unconstitutional actions.
PTI sources confirmed the decision of the Speaker to write the letter and said that the letter will be sent today.
On Monday, Governor Rehman directed the Punjab chief minister to seek a vote of confidence on December 21 (today).
The governor's direction came after the opposition Pakistan Peoples Party (PPP) and the Pakistan Muslim League-Nawaz (PML-N) filed a no-confidence motion against Elahi in a bid to forestall the dissolution of the provincial assembly on Friday.
Also read: Vote of no-confidence against Elahi will not be held today, says Fawad
On Tuesday, Speaker Sibtain Khan, who was chairing the Punjab Assembly session, adjourned the sitting until Friday instead of Wednesday (today) as directed by the governor.
The speaker said that the governor's letter asking the chief minister to seek a vote of confidence was against the assembly rules as well as the Constitution.
The speaker ruled that the governor's order to the chief minister was "unconstitutional because the assembly was already in session and unless the current session was prorogued, the governor could not summon a fresh session".
"The provincial assembly of the Punjab is already in the session having been summoned by the speaker on a requisition by the members of the assembly on 23rd October …" the ruling said. "Until and unless the current session is prorogued the governor cannot summon any fresh session," it added.

[ad_2]
Source link